Krispy Kreme
Krispy Kreme stands were introduced to Moto services in 2009, before being delivered to Welcome Break and Roadchef services as well. The stands, which are similar to those found in Tesco supermarkets, offer a selection of doughnuts outside a WHSmith store. They are then paid for in the shop.
A full Krispy Kreme store opened at Oxford in December 2012, which was the only one at a motorway service area. It was replaced by Harry Ramsden's in 2014, but another one was added to Norton Canes services for a while.
Moto combined Kripsy Kreme cabinets with the opening of their West Cornwall Pasty Company outlets at Extra services in summer 2017.
One senior official at Welcome Break described the initial revenue from the Krispy Kreme cabinets as "phenomenal", especially considering they take up such little space and require little staff attention.
Doughnut innovation returned to the motorway in March 2021, when a Krispy Kreme Airstream (their name for their branded caravans) was parked up outside the main building as a new sales point. This may have been to encourage social distancing.
Locations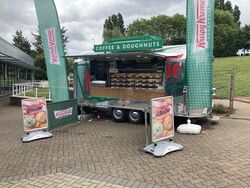 Krispy Kreme can be found at most service areas and some forecourts. These are: [view on a map - Download KMLrefine search]
Ireland
Former Locations
Krispy Kreme has been removed from the following services: