Motorway service area
This is about motorway services in general. For the operator Motorway Services Ltd, see Trusthouse Forte.
A motorway service area is any state-approved facility designed to rest drivers who are using the motorway network. They are run entirely by private operators but regulated by the Department for Transport through Circular 01/2022 (in England only, though similar policies apply across the UK).
While anybody can call themselves a motorway service area (and many do), the government policy is clear that the term only describes a facility that has several official signs on the motorway declaring the next exit to have a service area. Those signs should only be provided if certain requirements are met.
This whole website is all about them.
The rest of this page is about the UK. In Ireland a very similar concept is officially referred to as a Type 1 Service Area, but highway authorities have been known to use the term "MSA" in internal correspondence.
History
Origins
Any facility designed to serve travellers could claim to have had an influence on the motorway service area, but the closest relative is the coaching inn, which set up at the crossings of major routes to rest horses and their owners. They were usually located every few miles and offered food, accommodation and stables.
Motorway Era
See also: The Original Five

One of the benefits of motorways is that local businesses are not allowed to set up alongside, making the road faster and safer. When the M1 was being designed, concerns were raised that people wouldn't be using the road because they liked the security of having somewhere to stop. A rushed survey was sent out to gauge the level of interest in a small number of commercial facilities being provided along the road.
Two very different services opened with the M1 in 1959: Blue Boar's rudimentary Watford Gap and Motorway Services Ltd's exquisite Newport Pagnell. There was no time to assess the benefits of these, so the format was simply copied across the motorway network.
Changes
See also: MSA Policy

When motorway services were first proposed, it was assumed their main function would be to help rescue broken vehicles. Finding a company who were skilled in this, selling fuel and running a restaurant was difficult, and the breakdown service was frequently cut-off by competitors. It was formally cancelled in 1977, with services focussing on fuel, catering and now motels instead.
Unlike with A-roads, there is now no limit on the number of ancillary buildings a motorway service area can have. The fact they are still mostly based around one amenity building is because it's easier to operate them.
Etymology
If you think about the phrase "motorway services" too much, it begins to hurt your head. The phrase is a shortening of "motorway service area", and it refers to a single building or place, so is a singular even though it looks like it should be a plural.
Our research suggests this is because "Motorway Services" is actually a brand name, a bit like how "Hoover" is a trademarked name that is frequently used as a verb.
Until the 1970s, motorway services were referred to as service areas (SAs). The company Motorway Services Ltd (their name literally meaning "we provide services on the motorway") were heavily involved in the 1960s, and their name appears to have become synonymous with them all.
That may explain how the few members of staff who had to negotiate with Motorway Services Ltd on behalf of the Ministry of Transport started to get it wrong. However, their name was rarely used publicly, so we're left unsure as to how the public came to be familiar with the phrase "motorway services". It's possible that the company leaked to the public enough for it to catch on, or it may be that they read it in press releases.
The other possibility is that the word "services" was commonly used to describe the combination of restaurants, toilets and fuel, so people instinctively stuck the word "motorway" in front of it when talking about the new facilities.
Selection and Ownership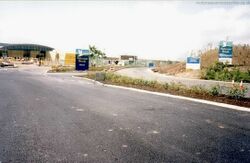 See also: Private Initiative

In England and Scotland, the government would originally identify suitable sites for motorway services as one of the last stages of motorway design. Interested firms would then bid for a contract to build and operate the services, with one aspect of their tender being a combined fixed and percentage-based rent payment.
In the 1980s, operators were allowed to suggest potential new service areas, but the land would still be acquired by the government. In England in 1992, developers and operators became solely responsible for identifying, purchasing the land and obtaining planning permission for new services. This process already applied in Wales and Scotland, and later used across Ireland.
This change was brought about to encourage more frequent, smaller services, which would be easier to plan and build.
Problems with Definition
The original policy of having the government own the land motorway services were built on, and having them dedicated for such a purpose, meant it was very clear whether something was a motorway service area or not. Since the first motorways opened enterprising landowners have built hotels and petrol stations next to motorway junctions but these clearly didn't meet the definition.
Now the land is privately owned, the definition of a service area is that there must be a Traffic Signs Agreement in place between the highway authority and the landowner. This causes a problem for enthusiasts because, in the UK, road signs are very inconsistent.
Sometimes small petrol stations will be told they don't qualify, sometimes they will be told they can have signs because there are no services nearby, sometimes they'll ask for signs and get them even though they clearly don't qualify and sometimes they'll get signs even when they didn't ask. That's not to mention the cases where different signs to normal have been used, such as replacing services with "hotel", "local facilities" or "rest area".
To the casual road user, everything is simple. To enthusiasts, trying to count how many services is impossible because there are too many jokers in the pack. However for highway authorities and landowners it creates a constant battle over what does and doesn't qualify.
Requirements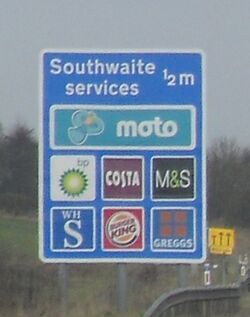 A Traffic Signs Agreement and official motorway signage should only be provided for service areas that meet the following requirements, 24 hours a day, 365 days a year:
Two hours free parking for all vehicle types, with CCTV and lighting
Free toilets, baby-changing facilities and a Changing Places, with no need to make a purchase
Showers for HGV drivers, with lockers
Petrol and diesel fuel
Electric vehicle charging points
Cooked hot food and hot drinks for consumption on the premises
Access to a free-of-charge telephone for emergency use
Free wifi
Free power points available for device charging
Access for those carrying out duties on behalf of the Secretary of State for Transport
The government policy also states that official motorway service areas should "share a common boundary with the highway". This means that you can't, in theory, have a motorway service area that is down miles of country lanes, or exclusively serving an A-road; while there are some service areas that are hard to find, these still tend to have a common boundary with the motorway.
The 2022 policy also states that a service area cannot be a destination in its own right. This is a complete reversal of the 2013 policy, which encouraged service areas to diversify into providing other facilities.
The maximum distance between motorway service areas is now 28 miles, however, the maximum distance between facilities for HGVs is now 14 miles. As cars tend to be the more profitable users of service areas, in practice this means that developers are likely to want to build a motorway service area every 14 miles. Local authorities have also been encouraged to identify land that could make for a useful service area, and doesn't rule out highway authorities building full motorway service areas again.
The minimum spacing rule was removed in 2013, and remains lifted.
Non-Qualifying Examples
See also: What is a service area?

Some motorway service areas may not meet all those requirements, usually for historic reasons. When writing about them, all that matters is that they have the Traffic Signs Agreement and all the required signage.
Nothing is ever simple and there are examples of places that have been given some "Services" signage on a motorway, but not enough to class them as official. This can either be the result of highway authorities trying to help lost motorists, or highway authorities being badgered by landowners who want some advertisement.
Examples of these include the "For Services follow..." sign at Forthview, the sign on the M42 at Appleby Magna that advertises "non-motorway services", the white signage on the M90 at Broxden, and the roundabout signs at Ross Spur and Bowtrees. A lot of these examples come from Scotland, a place that likes to ignore the signage policies that were written in England.
Meanwhile, Chieveley and Pease Pottage started out having insufficient signage, and have now graduated to being signed in full, giving the others something to dream of.
There is an increasing trend of service areas being built next to a motorway junction, and then not applying for any form of signage at all, instead relying of visibility and word-of-mouth. Needless to say, these have no official status at all, and the 2022 regulations have made it clear that developments like this are no longer permitted, arguing that they make it harder to develop official motorway service areas.
Road Signs
The required road signs for a full motorway service area are dealt with in detail on the Motorway Signs page.