Destination in its own right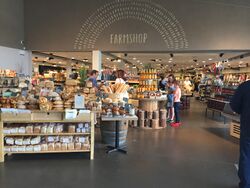 The phrase "destination in its own right" was used from 1980 until 2013 by the Department of Transport and Highways Agency, to prohibit operators from providing any more than the most basic facilities.
The phrase means that service areas could only provide facilities that would be needed by passing traffic, and nothing that would cause people to head out of their way to visit it. Quite literally, it can't be somebody's destination. This meant no lavish hotels, no large shopping centres and no activity centres. The government feared that elaborate facilities would be overrun by visitors and wouldn't be able to properly cater for passing traffic.
The rule stemmed from an original concern from the Ministry of Transport. The early motorway services were built using land acquired with a Compulsory Purchase Order to provide a vital facility for road users. If it turned out some of the land was being used to provide something that wasn't vital or wasn't for road users, an aggrieved neighbour could argue that the CPO has been abused.
In practice, the early motorway service areas did attract diners from the local area, but that was seen as merely a coincidence (and a very short-lived one). The rule was explained that operators shouldn't be offering anything that people would normally make a bespoke trip for, like selling furniture.
When the government started selling the freehold of service areas in 1992, the rule was written in their service area policy, to ensure service areas continued to prioritise motorway traffic over locals.
The second fear was that a developer might be able to get around planning legislation by pretending to be building a service area, but actually operating it as a large supermarket.
Although A-road services were never owned by the government, the 'destination in its own right' rule was later applied to them too, as a way of assessing whether a business proposal was appropriate or not.
Resistance
While the rule was in place, service areas persistently argued that the rule stopped them providing profitable or popular facilities. Arguably most lodges were being marketed at people staying in the local area, so were acting as a destination in their own right, even though officially they said they were serving people who were already part-way through a journey.
One curious exception was Rheged Discovery Centre, which despite the rule, served as both an official service area and "Cumbria's leading family day out".
In the early days of motorway service areas, they were frequently in trouble for provided unauthorised facilities. Granada were accused of running their services "like resorts", while Corley had a crazy golf course and Newport Pagnell was chastised for over-celebrating its 30th birthday.
One of the last examples of the rule in action was the business case for Gloucester services. As it talked about specialising in high quality, local food, the Highways Agency warned that it may be about to become a destination. In the event by the time it opened the rule had been abolished, and many people have since confessed that they have used the motorway purely to visit Gloucester services.
People often ask why the major supermarket chains never took an interest in service stations. Although the two industries have some overlap, the destination in its own right ruling would have caused the supermarkets to look very different - and that's before you consider the limit on retail floorspace which service areas were ruled by until 2013.
Removal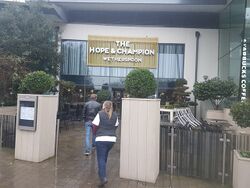 The regulations around service areas were reviewed in 2013, and this was one of many rules to be removed. The government at the time wanted businesses to invest to help the economy grow, and they made a lot of noise about how motorways could now play a key role in that.
Now service areas would have to prove that any ancillary facilities they build wouldn't affect their core purpose, by still having enough parking spaces and toilets for tired drivers. They would also need to submit a transport assessment which shows that the roads around the service area would be able to safely accommodate the additional traffic. If those points are satisfied, both motorway and A-road service areas are now free to build whatever additional facilities they like.
In the following years service areas have been built as part of business parks or new housing developments, and Extra started actively promoting their service areas to local residents with leaflets and billboards. Beaconsfield gained a pub in 2014, which was aimed more at residents than motorists.
The phrase "destination in its own right" was used by PizzaLuxe in October 2021, but this time they were talking about how they were intending their new branch at Peterborough to become a destination.