What are the opening hours of services?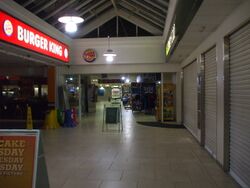 All British motorway service areas must be open 24 hours a day, 365 days a year, providing parking, fuel, hot drinks and snacks. The smaller services will tell you to go to the petrol station to get a machine-made coffee and a sandwich, while the bigger ones will have a dedicated coffee shop and newsagent open through the night.
The individual stores at services are open varying hours, some for longer than others. If you search for the brand name you're looking for, the typical opening hours will be displayed on the right where available. It is always best to check with them before visiting though.
Other services, if signposted from the road, must be open every day except Christmas Day, Boxing Day and New Year's Day. If the signposts say "not 24hrs" or "fuel only 24hrs" then they must be open from at least 8am to 8pm. If there are no signs to the services then their opening hours are completely up to them.
In practice, most petrol stations near main roads are open 24 hours a day regardless of the minimum requirements. If it's not an official motorway site it's always better to check than to rely on it though.
In Ireland, road signs will tell you if the petrol station is open 24 hours, but in practice all motorway service areas have fuel and toilet facilities open at night.