Barack Obama Plaza (Moneygall)
Barack Obama Plaza (Moneygall)
Location:
M7 at exit 23
(also accessible to traffic on the R445)

Signposted from the road? Yes (as tourist attraction)
Access/Layout:
Offline (
Single site located at a junction
)

Moneygall is possibly Ireland's most famous service station if only for its secondary name, Barack Obama Plaza. It consists of several Supermac's brands under the same roof.
No wonder just the locals' secret, in 2019 The Barack Obama Plaza won 'best motorway service station' at Ireland's Forecourt & Convenience Retailer Awards.
Facilities
Catering: Papa John's Pizza, Supermac's, SuperSubs, Tim Horton's Cafe & Bake Shop, Mac's Place Shops: Spar Main Amenities: Local Information, Local History Exhibition, Meeting Room, Rock of Loyer walking route Motel: none Forecourt: Circle K
Parking Prices
Parking is free for all vehicles for a maximum of two hours only.
Contact Details
Address:
Barack Obama Plaza
Drumbaun
Moneygall
Co. Tipperary
E53 F342
Telephone number:

0505 45810

Grid reference: S 03751 81515


Trivia and History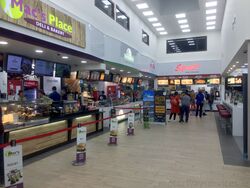 Inside the services.

---
It opened on 30 May 2014. It was developed privately following delays to the National Road Authority's plans for public developments.
The service area has an unusual design feature in that the car park isn't right next to the main entrance. It is a short walk down the road, almost as if the car park was forgotten about and added at the last moment. Only half of the 12-acre site is used by the restaurant, the rest has been reserved for possible future development.
The reason for the services's unusual name (by European standards) is that Barack Obama is descended from a family who once lived nearby. An exhibition explaining this and the history of Irish-US relations is presented on the second floor, tucked away from the hustle of the fast food outlets below. There are also pictures and cardboard cut-outs.
The site is often wrongly referred to as being in Co. Offaly. There is a border with Offaly barely 500m on each side, but the land here is part of a small section of Tipperary which surges north to encompass the service area.
Trying to be a service area which puts something back, the services also provide information on flights and nearby attractions.
Another unusual and remarkable feature is the 1980s chart music played across the forecourt area. A car valeting service is available here too.
On 20 December 2015, the Coca-Cola's Christmas Truck Tour spent an evening at the services.
Following its success, Supermac's have planned further services at Galway and Dromoland, under the name Supermac's Plaza.
Alternatives
Visitor Feedback

Views expressed in these comments are those of the individual contributor. They are moderated by Facebook.
We ask the companies named to check here regularly but can't guarentee they will do so.