Junction 14 Mayfield services
Location:
M7 at exit 14
(also accessible to traffic on the R445)

Signposted from the road.
Access/Layout:
Offline (
Single site located at a junction
)
A rarity for European motorway service areas: this is an independently-owned development. It was a small complex, but it was expanded in 2020 to create a new eating emporium with a very Irish line-up.
Facilities
Catering: Chopped, Papa John's Pizza, Insomnia Coffee, Mayfield Fare, SPAR Express, Subway, Supermac's, Gino's Gelato, Zambrero, Boston Donuts Shops: SPAR Express Amenities: Children's Play Area, Picnic Tables, Tourist Information Display, Showers Outdoor Space: Little grass space Charging Points: ESB ecars HPC 350kW CCS & 50kW CHAdeMO Forecourt: Texaco, Car Wash
Parking Prices
Parking is free of charge and available for up to 2 hours only.
This information is provided to us by third parties. You should always check with staff on site.
Contact Details
🏢 Address:
Junction 14 Mayfield
Mayfield
Monasterevin
Co. Kildare
Eircode: W34 E789
Trivia and History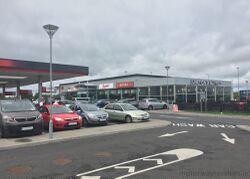 The original amenity building.

---
The service area opened on 17 June 2011, following a €7m investment. It was developed privately by two local businessmen, Liam and Donal Fitzpatrick, following delays to the National Road Authority's plans for their own service stations. They already ran Newlodge service station on the old N7 in nearby Monasterevin.
Their first proposal was put forward in 2006, following a study of European motorway services, as Ireland didn't have any at the time. This would have had only one food counter, no overflow car park and toilets only on the west side of the building.
The small amenity building serves all visitors, including forecourt customers, making it very busy. To counter this, there was a separate toilet block accessed from the car park, a handy feature which was designed-out of British motorway services 30 years ago. The unusual layout makes visiting easier for forecourt users than those in the car park.
Although the brand name Junction 14 is used all around the site, the service area is owned by the Fitzpatrick family's Lidon Group. They later took on another large site on the N3 at Mulhuddart.
The service area was a stop on Coca-Cola's 2015 Christmas Truck Tour. Since winter 2020, the car park has hosted a number of drive-in movie and bingo events. It has also hosted family fun days.
Expansion and Rivalry
In 2017, there was a plan to significantly extend the existing amenity building, adding a first story area for staff. This was granted planning permission. The new building started to open in early 2020, introducing Papa John's Pizza, and seeing a thorough refurbishment of the interior. There is now only a single toilet block, but the building now has two entrances.
At the back of the building, Chopped, Subway, Gino's Gelato and Zambrero and Mayfield Fare all opened in July 2020, just before the Portlaoise Plaza opened down the road. This created a new food hall. Junction 14 had remarked that their business model had moved away from being built around fuel sales, to being built around food and coffee sales, as this was what was making up an increasing proportion of the service area's income.
In 2018, Conor Furey and Associates applied for planning permission to build a larger service station immediately next to Mayfield (in the south-west corner of the junction). Planning permission was refused owing to concerns about its impact on the town and on traffic at the junction, but an appeal will be heard in October 2019.
It would have had three restaurants including one with a drive thru window. The appeal was rejected in March 2020.
ESB opened their first super-charging hub at Mayfield services on 7 July 2021. The eight high-powered chargers were the first of their kind in Ireland.
Offbeat Donut Co were added to the offering in August 2022.
Alternatives
Visitor Feedback
Visitors can leave public feedback on their experience by logging into the CommentBox app. You can do so quickly below:

Views expressed in these comments are those of the individual contributor. User accounts are managed by CommentBox.io. Registration helps prevent automated spam.
We ask the companies named to check here, but we can't force them to do so.