Kill services
(Seirbhísí An Chill)
Location:
N7 westbound between exits 7 and 8

Signposted from the road.
Access/Layout:
Online (
Two sites located between junctions, with no public connection between them
)
Named after the nearby village, which for English speakers is an unfortunately aggressive name.
Facilities
Westbound Facilities
Outdoor Space: No grass space Forecourt: Maxol, Abrakebabra, O'Briens, Bagel Factory, Mace
Eastbound Facilities
Outdoor Space: Little grass space Charging Points: IONITY 350kW CCS Forecourt: Circle K, Cantina, Krispy Kreme
Parking Prices
Free parking is provided for a maximum of 45 minutes.
This information is provided to us by third parties, you should always check with staff on site.
Contact Details
🏢 Address:
Beaufort Road Service Station
Kill
Co. Kildare
Eircode: W91 VNN3
📞 Telephone number:

04 5878781

🗺 Grid reference: N 93766 22823


Trivia and History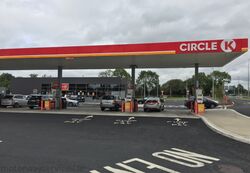 A filling station is available in both directions, but the eastbound side is not signposted so technically not official. This is probably because, when travelling west, it is the last service area before the M7: signs before the services used to advise traffic that no online facilities are available on the motorways.
Both forecourts were built on a single field when the N7 bypassed Kill. They were known as 'Beaufort services', sometimes Beaufort Road, and were branded Esso. The eastbound side had just four pumps and a small Esso-branded shop, while the south-westbound side had an On the Run Cafe and Costa Express machine.
They then became a pair of Topaz forecourts, each with a Re.Store shop. Topaz called them both 'Kill South'.
In 2017 the westbound forecourt was sold to Maxol, who introduced a number of restaurants and one of Ireland's only forecourts with the option to pay at the pump. They erected a large sign calling it simply 'N7 Services', occasionally referring to it as Beaufort Road.
The eastbound forecourt remained with Topaz until the Circle K re-brand. In 2018 Circle K opened a much larger forecourt behind the existing one, with their usual shopping and catering facilities, many more pumps, and safer slip roads. They started referring to it as 'Kill North', which made more sense given that it's on the north-eastbound carriageway, though the name 'Beaufort' does still persist. The old forecourt was then demolished.
Ireland's first Krispy Kreme stand was added to Kill North in April 2021.
Alternatives