Kilcullen services
(Ionad Seirbhíse Cill Chuilinn)
Location:
M9 between exits 2 and 3

Signposted from the road.
Access/Layout:
Online (
Single site located between junctions with access to both sides
)
The third and final of Ireland's long-delayed Tranche 2 service stations is now open. As might be expected, it can be very quiet, but still fills an important gap in the network.
Facilities
Catering: McDonald's, Cantina, Petite Camile, Krispy Kreme, Simply Great Coffee Shops: Circle K Amenities: Children's Play Area, Fáilte Ireland Tourist Information Display, Showers Outdoor Space: Grass areas around site; Children's Play Area, Picnic Area Charging Points: ESB ecars 50kW CCS, 50kW CHAdeMO & 43kW Type 2 Forecourt: Circle K
Parking Prices
Further information is not available, please update this if you know.
Contact Details
🏢 Address:
Kilgowan
Kilcullen
Curragh Camp
Co. Kildare
Eircode: R56 T251
Trivia and History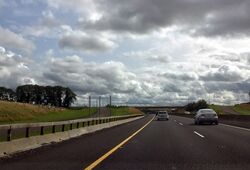 The junction was built but not used for several years.

---
Construction completed
2015
As part of Ireland's desire for new motorway service areas which was only discovered in 2007, a site was planned at Kilcullen. A new junction was built to accommodate it in 2015 but the site didn't open for another four years.
Topaz won the contract to operate Kilcullen as their offer scored 7% better than SuperStop's (Applegreen). SuperStop argued that this fell down to a difference in how the footpaths should be surfaced which hadn't been accounted for, and their objection prevented work from progressing any further
After clearing all the legal hurdles, it was set to open in June 2019, but was then pushed back to 23 October 2019. An official opening celebration was held on 25 October.
The service area opened with Petite Camile in place of Circle K's Cantina. Petite Camile is a partnership between Camile Thai and Circle K, which they intend to roll out to more sites.
Alternatives
Visitor Feedback
We recently launched a new system for recording public feedback. It will take time for new comments to appear. Users will need to register with CommentBox to leave reviews, and you can do so quickly below:

Views expressed in these comments are those of the individual contributor. User accounts are managed by CommentBox.io.
We ask the companies named to check here regularly but we can't force them to do so.