Circle K
Circle K is a forecourt operator and fuel brand with a large number of sites across the island of Ireland.
Under its previous name Topaz, they privately developed a motorway service area at Cashel, and in 2015 they won the contract to operate three more on behalf of the state. However, an objection from a rival firm meant that those three sites didn't open until 2019, when they became Circle K's premier sites.
Other motorway sites have since been developed. In addition, a number of local petrol stations are operated by franchise partners, where they are known as Circle K Express.
Re.Store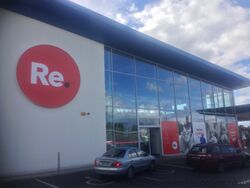 For the former Roadchef brand, see reStore (Roadchef).
Topaz's largest filling stations had the forecourt shop branded Re.Store. This doubles up as both the filling station pay point, and a deli and café, sometimes including franchised units. At larger sites there is a separate entrance for customers not purchasing fuel.
Through 2018, Re.Store was phased out in favour of Circle K. The change isn't particularly thorough and there are still plenty of Re.Store logos to be found.
Origins
Historically, many Circle K sites had traded under other well-known brand names.
In 1992, BP's Irish operations were taken over by Statoil. In 2005, Ion Equity took control of both Statoil and Shell's Irish sites. Both companies had been reputation damaged by the Corrib gas controversy, which peaked in 2005 but would continue for many years after.
In 2008, Ion Equity decided to brand both operations 'Topaz'.
A further acquisition in 2014 gave Topaz control of all of Esso's Irish sites. This gave Topaz widespread coverage across Ireland, with some sites competing very close together. Many of the Esso sites were never fully rebranded, with plenty of Esso 'tiger' branding still visible years later.
Re-branding from Topaz
In 2016, Topaz was purchased by Alimentation Couche-Tard, the owner of American fuel and convenience store brand Circle K. By the end of 2017 all coffee machines at all Topaz sites were re-branded as the own-branded 'Simply Great Coffee'.
A high-profile launch event for Miles, the brand name of Circle K's fuel, was held in July 2017.
Topaz had said they would continue to operate under their own name, with Miles, Simply Great Coffee and Re.Store being the products they provided. However, when asked about their future plans, Topaz had said "when and what [the name] will be replaced with is not something we can say comment upon" (sic).
In early 2018 their website was updated to say that they will "rebrand 420 sites nationwide from Topaz to Circle K". Moorepark was the first site to acknowledge the new brand, with many more following throughout Spring.
Locations
Circle K own the following services: [view on a map -  Download KMLrefine search]
COVID-19 update: This list does not include temporary closures caused by COVID-19. General advice here.
They also provide fuel at the following services:
Former Locations
Topaz was removed from the following services:
Visitor Feedback

Views expressed in these comments are those of the individual contributor. User accounts are managed by Facebook.
We would like the companies named to check here regularly but we can't force them to do so.