Fermoy services
(Seirbhísí Mainistir Fhear Maí)
Fermoy
Mainistir Fhear Maí
Location:
M8 at exit 14
(also accessible to traffic on the R639)

(Limited road signage.)
Access/Layout:
Offline (
Single site located at a junction
)
Circle K came to Ireland with their brand new forecourt at the Fermoy exit on the M8.
Facilities
Catering: Cantina, Simply Great Coffee Shops: Retail Store Outdoor Space: Grass area on far left; Children's Play Area; Picnic Tables Charging Points: none Forecourt: Circle K, Car Wash
Parking Prices
Further information is not available, please update this if you know.
Contact Details
🏢 Address:
Gortore
Fermoy
Co. Cork
Eircode: P61 RY63
Trivia and History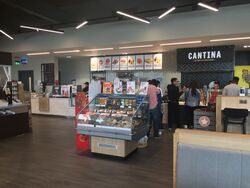 Inside the services.

---
JR Oronco Ltd held planning permission to build this service area at M8 J14, Moorepark. They billed it as "the largest development of its kind in Ireland". Meanwhile, Applegreen had their service area planned for M8 J13 approved initially, but this was then refused over concerns about the impact on the environment and economy.
In February 2016 it was announced that JR Oronco's Moorepark site would be built by Topaz and McDonald's. Work started on the construction in August 2017 and involved the construction of a new roundabout on the R639. The McDonald's drive thru was then refused planning permission on the grounds that it would take trade from local towns. Although the developer appealed this, it meant the site opened as a more standard forecourt with a large car park.
The service area opened on 30 March 2018 as the first site in Ireland to acknowledge Topaz's new name, Circle K, as their 'Fermoy' site. It is one of few forecourts to offer 'pay at pump' facility. The McDonald's drive thru finally received planning permission in December 2020.
Although Transport Infrastructure Ireland consider Fermoy to be an official service area, the signage they provided on the M8 was somewhat limited. It then has to compete with another signposted 'service station' (a standard petrol station) on the other side of the same interchange.
Camile Thai have announced that they will open a Petite Camile store at the service area soon.
Alternatives
Visitor Feedback
Visitors can leave public feedback on their experience by logging into the CommentBox app. You can do so quickly below:

Views expressed in these comments are those of the individual contributor. User accounts are managed by CommentBox.io. Registration helps prevent automated spam.
We ask the companies named to check here, but we can't force them to do so.