Applegreen
Applegreen
Locations:
8 motorway service areas
Head office address:
Applegreen plc.
17 Joyce Way
Parkwest Business Park
Dublin 12
Ireland
Phone number:
+353 1 512 4800
In Ireland, Applegreen is the public name of Petrogas Ltd, who own a large number of petrol stations of varying sizes, many of which have taken over from previous providers. They later introduced the brand into the UK via a series of small forecourts, with the smaller ones using a sister brand, Low Fuel Prices Always (confusingly, that branding is also Applegreen's slogan).
Applegreen provide the fuel at many Irish motorway services, and are currently the only operator in Northern Ireland.
Since 2016 they have been keen to break into the UK mainland's motorway market, planning several new services. In November 2018 they purchased a significant stake of UK operator Welcome Break.
Irish Roots
Applegreen's main presence as a major operator is in Ireland. It started in 1992 as a company running petrol stations under the brand name of its supplier, but after noticing the profit margin on fuel was dropping, in 2005 they decided to focus on the facilities available inside the forecourt store. They introduced the Applegreen brand to do this under.
Like many fuel brands, Applegreen believe that selling fuel on its own is no longer a profitable business, and instead it is a way to get people to visit their shopping and catering facilities - especially in Ireland where supermarkets have been unable to conquer the fuel market. In particular, Applegreen are now focusing on ensuring that their sites are places that owners of electric vehicles might want to visit while recharging.
On 24 July 2020 they celebrated their birthday with a number of promotions, including selling fuel at Irish motorway sites for 24.7 cent per litre.
Brand Names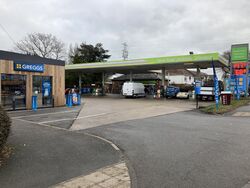 Applegreen franchises include Burger King, Subway and Costa. Previously, Wimpy was a common sight. In the UK they use Greggs, although these have mostly transferred to Welcome Break.
Their restaurants used to consist of aCafé and Food to Go. The former became The Bakewell (sometimes branded 'The Bakewell Kitchen') and the latter became Freshii.
In Summer 2019, a number of branches of The Bakewell extended their opening hours to begin serving a limited menu at 3am.
Working with BrandNew Creative, Applegreen launched their own coffee brand in October 2020, although it didn't reach the major sites until January 2022. Braeburn Coffee is a self-service coffee and snacks brand with a premium appeal, and is being rolled out to their larger forecourts. Applegreen's main rival, Circle K, had launched their own coffee brand several years previously, while Applegreen had been relying on Costa and Lavazza. Braeburn machines also serve iced coffee and non-dairy milk, and opened its first dedicated drive thru store in May 2023.
SuperStop
The optimistically-titled SuperStop is a consortium of Applegreen, TOP Oil and (for the duration of construction) Pierse Contracting, with Applegreen being the most publicly active partner but the ownership split evenly between all three. SuperStop won the contract to design, build, finance, maintain and operate Ireland's first six motorway services from 2010 until at least 2035. After the first three of those opened, the rest were postponed indefinitely.
Applegreen objected to the decision to award the next three services to Topaz in 2015, instead of their own consortium. Their bid was named SuperStop 2.
SuperStop service areas follow the peculiar Irish design of having the filling station before the car park.
Racing The State
Before Ireland had any motorway service areas, Applegreen built a large forecourt near Balbriggan at M1 J5, close to where Lusk services was about to be built. They claimed Balbriggan was Ireland's first motorway service area, although it wasn't and still isn't signposted as such.
Since then, Applegreen have continued to express their frustration at the Irish government's slow roll-out of motorway service areas. Applegreen went on to build Wicklow faster than the official Gorey services, and are pursuing planning permission for their own Dunshaughlin services much faster than the official one.
Transport Infrastructure Ireland now recognises Applegreen's own motorway service areas as being as good as the ones designed by the government (excluding Balbriggan which continues to be ignored), so Applegreen's strategy has influenced how the government focuses its service station planning.
International Expansion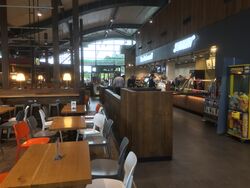 Applegreen has had its sights on forecourts beyond Ireland, and in July 2017 they purchased 34 filling stations in South Carolina, USA.
Having run several local petrol stations in the UK since 2008, in August 2017 Applegreen purchased seven forecourts in the UK from the Carsley Group for £21m. These were mostly on the A1 and marked a major opportunity for Applegreen to start appearing along major roads in England, introducing their food-to-go range and raising their profile before any potential motorway services open.
Despite having planned several large motorway services in the UK, these were unsuccessful. In August 2018, Applegreen changed their strategy by purchasing 55% of the existing UK motorway services operator Welcome Break. Applegreen claimed that they will be responsible for the brand's overall "strategy and operations", while Welcome Break's management would take responsibility for Applegreen's existing UK locations. The change took effect in January 2019, with Applegreen's UK motorway and major A-road services expected to be re-branded at a later date.
Meanwhile, Welcome Break phased out its dependence on Shell branding for its forecourts, before only selling Applegreen's "fuel good" brand of fuel instead. They use a slightly modified slogan: "lowering fuel prices" instead of "low fuel prices". Planning documents for some of their forecourts have been spotted with Dublin addresses on them.
It was reported in March 2022 that Applegreen had considered selling their 98 UK forecourts, leaving them with only the Welcome Break sites. This is no longer planned, but more Applegreen sites have transferred to Welcome Break responsibility.
In April 2023, Applegreen transferred most of their BP sites to the Applegreen or Welcome Break fuel brands.
Applegreen Services
Applegreen operate both of Northern Ireland's motorway services, and a number of privately developed sites on the Irish motorway network. Both are planned to become Welcome Breaks.
Ireland (Republic Of.)
In a 2018 statement, Applegreen claimed they operate 23 trunk road service areas in Ireland. We only count ones with official signposting, of which there is only one. Their figure includes petrol stations in urban areas which may not even be trunk roads. They added that there are three more motorway sites, which we have included in this list.
In addition, in 2017 Applegreen acquired the Midway Food Court, which is not a signposted service station but may become one.
SuperStop Services
SuperStop (branded as Applegreen) run the following services in Ireland: [view on a map - Download KML]
UK Mainland
In the same 2018 statement, Applegreen claimed to operate eight trunk road services in the UK. This matched our list of signposted A-road services (which has since increased). All except Nuneaton are to become Welcome Breaks.
For a list of Welcome Break services, see List of Welcome Break services.
Planned Services
Applegreen is seeking to build the following major service areas:
Unbuilt Services
The following motorway services were planned by Applegreen but were never built:
Visitor Feedback
Visitors can leave public feedback on their experience by logging into the CommentBox app. You can do so quickly below:

Views expressed in these comments are those of the individual contributor. User accounts are managed by CommentBox.io. Registration helps prevent automated spam.
We ask the companies named to check here, but we can't force them to do so.