Enfield services
(Seirbhísí An Bóthar Buí)
Location:
M4 between exit 9 and exit 10

Signposted from the road.
Access/Layout:
Online (
Two sites located between junctions, with no public connection between them
)

One of SuperStop's brand new services, this one west of Dublin.
Facilities
[
edit
]
Catering: Burger King, Costa, The Bakewell
westbound only: Freshii, Coffee Machine
eastbound only: Subway Shops: Off Licence Main Amenities: Children's Play Area, Picnic Area, Showers, Tourist Information, Electric Vehicle Charging Point Motel: none Forecourt: Applegreen, Air1 AdBlue, Car Wash, TOP Oil
All facilities except the fuel payment, a toilet and a shower close at 23:00.
Parking Prices
[
edit
]
Further information is not available, please update this if you know.
Contact Details
[
edit
]
Address:
Applegreen Enfield (M4)
Kilmore
Enfield
Co. Kildare
Eircode: A83 T279
Telephone number:

046 954 9372

Grid reference: N 74612 40814


Trivia and History
[
edit
]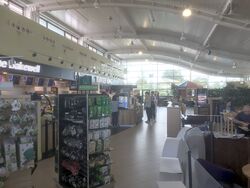 Inside the services.

---
The services opened on 6 October 2010.
This is currently the only service area in Ireland only accessible from a tolled motorway.
Alternatives
[
edit
]
Visitor Feedback
This public feedback has been left by other readers. When leaving your own, ignore any messages about 'object invalid value' - your message will still go through.

Views expressed in these comments are those of the individual contributor. They are moderated by Facebook.
We ask the companies named to check here regularly but can't guarentee they will do so.