Burger King
Burger King has become extremely common on the motorway, with Moto, Welcome Break and many of the lesser-known service area operators all making it available.
To encourage social distancing, some Burger Kings support online ordering. Depending on who owns the branch, online ordering is available either from Moto's website, Welcome Break's app or Burger King's app. Welcome Break are also trialling a 'deliver to car' service.
In response to the growing competition, Burger King spent the 2010s refurbishing their European restaurants to take on a more 'upmarket diner' appearance. In late 2020, the new furniture was contrasted by Burger King's plan to bring back a retro styling. A new logo was introduced, which was a hybrid of two logos they had used between 1969 and 1999.
Introduction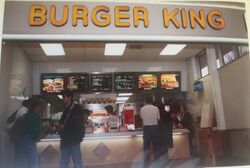 The chain was started in 1954, and has spread to more than 100 countries. On the motorways, burger bars like Julie's Pantry and Granada's Burger Express became common in the 1980s. Pavilion, who were keen on motorway brand names, began using Burger King at their service areas from 1993, and Granada soon followed by replacing their Burger Expresses with Burger Kings.
This was an era where chains from the high street were still very rarely seen on the motorway, and Granada were very impressed by how popular Burger King turned out to be. They soon pledged to open another 50 branches. When Granada acquired Welcome Break and Little Chef, most of those got Burger Kings too.
Granada would provide a Burger King wherever it would fit, with seemingly little consistency between branches. Some were just a sales point with no seating, others had a large, dedicated seating area.
From 1997, Granada regarded Little Chef and Burger King as their two most cherished brands, and promoted them both wherever possible. Including the branches within their Little Chefs, Granada were the UK's biggest Burger King franchisee.
Competition
Most of the branches opened by Granada are still trading, either as Moto or Welcome Break motorway services or within EG Group's former Little Chef's. This had given Burger King a huge roadside advantage against their long-time rivals McDonald's, who had been slower at embracing the franchising model.
Burger King's effective exclusivity came to an end in the late 2000s, when Roadchef, who had previously worked with Wimpy and The Burger Company, agreed a franchising deal with McDonald's. Meanwhile, McDonald's had been much faster than Burger King at opening stand-alone restaurants at key locations along A-roads.
As traditional restaurants became less popular, Welcome Break started replacing their restaurants with other fast food names, some of which proved more popular than (and even pushed out) Burger King. First, another motorway Burger King operator, quit the industry.
In 2012 Moto, who were the only motorway operator now relying solely on Burger King to fulfil its fast food demand, started experimenting with KFC and later specialist fast food brand Chow. In 2018, Moto committed to introducing more KFCs, implying Burger King could be about to be pushed to the side.
One reason for Burger King's long-lasting happy relationship with so many operators is their relaxed attitude to price inflation. The 2023 Transport Focus review found that customers of the Burger King operators were much less satisfied with the value for money they had been offered than customers of an operator who was loyal to McDonald's.
Locations
Burger King operate at most Moto, Welcome Break and EG Group service areas. They are: [view on a map - Download KMLrefine search]
Northern Ireland
Both Northern Ireland's main motorway services have Burger King drive thrus:
A-road Locations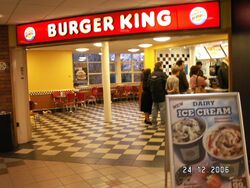 Ireland (Republic Of.)
Former Locations
Burger King has been removed from the following official service areas:
Visitor Feedback
Visitors can leave public feedback on their experience by logging into the CommentBox app. You can do so quickly below:

Views expressed in these comments are those of the individual contributor. User accounts are managed by CommentBox.io. Registration helps prevent automated spam.
We ask the companies named to check here, but we can't force them to do so.