Wicklow services
(Seirbhísí Cill Mhantáin)
Location:
M11 at exit 14
(also accessible to traffic on the N11 and the R772)

Signposted from the road.
Access/Layout:
Offline (
Single site located at a junction
)
Applegreen opened this new service area on the very edge of the Dublin commuter belt and at the point where the free-flowing motorway gives way to the scenic but narrower national road.
Facilities
Catering: Braeburn Coffee, Burger King Drive Thru, Costa Coffee, Subway, The Bakewell, Splitz, Boston Donuts Shops: Off Licence Amenities: Children's Play Area, Showers Outdoor Space: Small grass area around site edge; Children's Play Area, Picnic Tables Charging Points: Applegreen Electric 150kW CCS & 100kW CHAdeMO Forecourt: Applegreen
All facilities except the fuel payment, a toilet and a shower close at 23:00.
Parking Prices
Further information is not available, please update this if you know.
Contact Details
🏢 Address:
Applegreen Service Station
Cullenmore
Ashford
Co. Wicklow
Eircode: A67 WR12
Trivia and History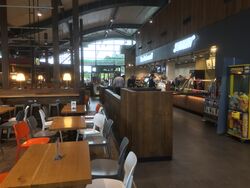 Inside the service area.

---
The service area was privately developed to try to stop Gorey being developed by Transport Infrastructure Ireland, further down the M11. It opened on 4 June 2014, giving it a five-year monopoly before Gorey finally opened.
It's built in a large cutting on the site of the old Cullenmore Hotel, which was positioned on the old route of the N11. This closed after becoming cut off by the new road in 2002, and the hotel was then burned down in 2011. As the service area is positioned on what was the road to Dublin, the entrance takes in several private driveways.
Parking is provided for 80 cars, 6 HGVs and 3 coaches and the investment was approximately €7m. The main amenity building is not open overnight, but 24 hour toilets are provided along the side of it.
During planning the proposal was referred to as 'Coyne's Cross services'. When Applegreen opened it, they clearly filled it with signs calling it 'Wicklow service area'. However in 2019 Transport Infrastructure Ireland provided new signs at the end of the M11 which refer to services at "Coynes Cross". To confuse matters further, in April 2020 TII then called it 'Cullenmore'; a name that Applegreen themselves sometimes use.
Following the partnership between Applegreen and M&S Food, their range was added to the shop in March 2023; the first at a motorway site in Ireland. A launch event was broadcast on East Coast FM on 11 March.
Alternatives
Visitor Feedback
Visitors can leave public feedback on their experience by logging into the CommentBox app. You can do so quickly below:

Views expressed in these comments are those of the individual contributor. User accounts are managed by CommentBox.io. Registration helps prevent automated spam.
We ask the companies named to check here, but we can't force them to do so.