Gorey services
(Ionad Seirbhíse Guaire)
Location:
M11 between exits 21 and 22

Signposted from the road.
Access/Layout:
Online (
Single site located between junctions with access to both sides
)
One of Ireland's newest motorway service areas has been around for ages. It was mothballed for four years while contractual arguments were sorted out, and was finally brought to life in 2019. Unusually for a modern service station, it has a busy restaurant area with little high street branding, though there is a small McDonald's.
Facilities
Catering: McDonald's, Cantina, Coffee Shop, Krispy Kreme, Simply Great Coffee Shops: Circle K Amenities: Children's Play Area, Failte Ireland Tourist Information Display, Showers Outdoor Space: Little grass space around site edge; Children's Play Area, Picnic Tables Charging Points: ESB ecars 50kW CCS, 50kW CHAdeMO & 43kW Type 2 Forecourt: Circle K
Parking Prices
Further information is not available, please update this if you know.
Contact Details
🏢 Address:
Ballyellin
Inch
Gorey
Co. Wexford
Eircode: Y25 V8F8 21385 68080
Trivia and History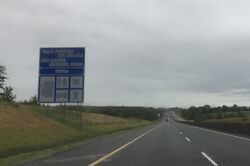 The signs stood there for years before they could be uncovered.

---
Construction completed
2015
The site has been called Gorey North by some sources, but the road signs just say 'Gorey'.
The amenity building has three entrances, serving the forecourt, car park and picnic area.
As part of a new enthusiasm for building new motorway service areas which the Irish government discovered in 2007, as well as the project to upgrade the N11 to motorway, a service area was planned at Gorey. The plan initially received objections from local businesses but these were overruled in favour of a traffic assessment which concluded that the M11 needed one service area.
Work started in August 2013 and finished in 2015, making it a year behind schedule. Topaz won a contract to operate it. Their offer scored 7% better than SuperStop's. SuperStop argued that this fell down to a difference in how the footpaths should be surfaced which hadn't been accounted for, and their objection prevented the new building from opening.
Applegreen, who are part of SuperStop, claimed there wasn't enough traffic to warrant opening Gorey, which would take trade from a site they privately developed at Wicklow. Applegreen planned and opened Wicklow in the time it took to resolve disputes about Gorey.
In May 2017, it was announced the services would be opening later that year, however in November 2017, Topaz revealed that they still hadn't entered any formal agreements to open the site, hinting that the contract is no longer as attractive as they thought it would be. The site was ready to open during this time, but was fenced off and guarded by a 24-hour security patrol, costing over €400,000 in addition to the €10 million investment.
The opening date was pushed back throughout 2018. Circle K (the new name for Topaz) started fitting out the site in September 2018, and started recruiting staff in November 2018, telling them it would be opening before the end of the year. This date was pushed back again to February 2019, and pushed back again until it officially opened on 28 March 2019.
Upon opening it claimed to be the largest service station in Europe. That's a little deceitful, but it's probably Ireland's largest service station. Space was left inside for a McDonald's, which eventually opened later in 2019.
'Pay at pump' is available in the forecourt.
Camile Thai have announced that they will open a Petite Camile store at the service area soon.
Alternatives
Visitor Feedback
Visitors can leave public feedback on their experience by logging into the CommentBox app. You can do so quickly below:

Views expressed in these comments are those of the individual contributor. User accounts are managed by CommentBox.io. Registration helps prevent automated spam.
We ask the companies named to check here, but we can't force them to do so.