Subway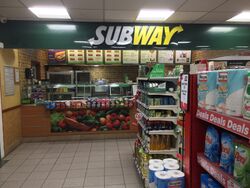 This is about the food brand. For information on road crossings, see Bridges. Subway is an internationally renowned sandwich bar which can now be found across the motorway network, thanks to a deal with Welcome Break.
The first motorway site was at the new Rivington services, as a partner of Euro Garages. In May 2013 the pair announced they would be opening 69 more Subway outlets across Euro Garages' estate, coming to services big and small.
In November 2013 it was announced Subway would be forming a major part of Welcome Break's new restaurant line-up, alongside Harry Ramsden's and Tossed. This is operated under a contract expiring in 2023.
Subways are also opening within current and former Little Chef restaurants, and at MFG forecourts too. In Ireland, they are used by Applegreen, alongside other takeaway brands.
All Subway restaurants are franchised. Their low barriers to entry mean that, during the 2010s, Subway has become one of the most prolific food brands in the UK. There have been some hints that the market is now saturated and, on the roads at least, not many more Subways will open.
Motorway users can order online with the Subway app.
At the start of the 2000s, Moto worked with Upper Crust, which was their sister company at the time. Upper Crust have a similar product range but with less customisation, and most of their motorway sites have closed.
Locations
Subway operate at the following signposted service areas: [view on a map - Download KMLrefine search]
Northern Ireland
Ireland (Republic Of.)
Motorway Forecourts
Subway can be found at the following service area forecourts:
A-road Services
A-road Forecourts
Former Locations
Subway has been removed from the following service areas:
Visitor Feedback
We recently launched a new system for recording public feedback. It will take time for new comments to appear. Users will need to register with CommentBox to leave reviews, and you can do so quickly below:

Views expressed in these comments are those of the individual contributor. User accounts are managed by CommentBox.io.
We ask the companies named to check here regularly but we can't force them to do so.