Subway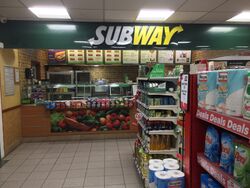 Subway is an internationally renowned sandwich bar which can now be found across the motorway network, thanks to a deal with Welcome Break.
The first motorway site was at the new Rivington services, as a partner of Euro Garages. In May 2013 the pair announced they would be opening 69 more Subway outlets across Euro Garages' estate, coming to services big and small.
In November 2013 it was announced Subway would be forming a major part of Welcome Break's new restaurant line-up, alongside Harry Ramsden's and Tossed.
Subways are also opening within current and former Little Chef restaurants. In Ireland, they are used by Applegreen, alongside other takeaway brands.
At the start of the 2000s, Moto worked with Upper Crust, which was their sister company at the time. Upper Crust have a similar product range but with less customisation, and most of their motorway sites have closed.
Even away from the motorways, all Subways are franchised.
Motorway Locations
[
edit
]
Subway operate at the following locations: [view on a map -  Download on Google Earthrefine search]
Northern Ireland
[
edit
]
Ireland (Republic Of.)
[
edit
]
Motorway Forecourts
[
edit
]
Subway can be found at the following service area forecourts:
A-road Services
[
edit
]
A-road Forecourts
[
edit
]
Former Locations
[
edit
]
Subway has been removed from the following services:
Visitor Feedback
This public feedback has been left by other readers. When leaving your own, ignore any messages about 'object invalid value' - your message will still go through.

Views expressed in these comments are those of the individual contributor. They are moderated by Facebook.
We ask the companies named to check here regularly but can't guarentee they will do so.