Fleet services
Location:
M3 between J4A and J5

Signposted from the road.
Access/Layout:

Two sites located between junctions, connected by an internal bridge.



Fleet services has fully re-opened with a brand new building after the previous fire damage.
Facilities
COVID-19 update: These details were updated on 1 May 2021, with changes caused by COVID-19.
Catering: Burger King, KFC, Starbucks, Subway, The Good Breakfast, Krispy Kreme, Starbucks on the Go, Tango Ice Blast, Yorkshire Tea, Starbucks Drive Thru Shops: Little Waitrose & Partners, Waitrose & Partners, WHSmith Main Amenities: on both sides: Picnic Area, Showers, Small Dog Walking Area, The Scott Mills Bridge
and south-westbound only: Changing Places, Fourex Money Exchange, HGV Covid-19 Test Centre Hotel: south-westbound only: Days Innbook Charging Points: on both sides: Ecotricity
plus north-eastbound only: Tesla Supercharger Forecourt: Welcome Break Fuel, The Deli, f'real Milkshakes, Rollover, Starbucks on the Go, Air1 AdBlue
Parking Prices
First 2 hours free for all vehicles, after which cars must pay £15 for a further 24 hours and HGVs, caravans and coaches must pay £31 (or £33 to include a £10 meal voucher).
Prices can be paid in the shop or forecourt with instructions in each car park. They are strictly enforced by ParkingEye.
This information is provided to us by third parties. You should always check with staff on site.
Contact Details
🏢 Address:
Welcome Break
M3 Services
Fleet Services
Fleet
Hampshire
GU51 1AA
📞 Telephone number:

01252 621656

🗺 Grid reference: SU798558


Trivia and Design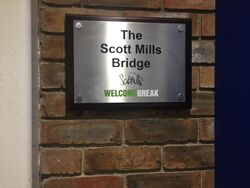 See also: History:Fleet

Fleet was one of two Welcome Break services which have a McDonald's. The wide variety of fast food here (the so-called "Holy Trinity") helped Fleet to develop somewhat of a cult following, with it being one of the most talked-about service areas in the country. The McDonald's became a Burger King and Chopstix Noodle Bar-The Good Breakfast in 2020.
On 20 January 2016, it was officially announced that the footbridge was to be renamed 'The Scott Mills Bridge' after a campaign by BBC Radio 1 DJ Scott Mills was launched to get as many things to be named after him as possible. An official opening ceremony took place on 16 March 2016 and a plaque was placed on the southbound side (later moved) to mark the renaming.
Scott Mills's endorsement helped maintain Fleet's social standing, but in some respects its status as a cultural icon - especially among younger drivers - has been lost to Cobham.
The Scott Mills Bridge survived a large fire at Fleet in 2016, an event which caused shock among the fans. A new building opened in September 2018, bringing the bridge back into use and introducing new facilities.
Radio 1 wasn't Fleet's only celebrity endorsement. Previously Jeremy Clarkson had told BBC Southern Counties Radio of his love for the "Fleet cheat", where he illegitimately uses the rear access to avoid queues on the motorway.
Tesla Superchargers were added to Fleet in 2018. However, as of 2021, the chargers on the south-westbound side still haven't been activated, due to technical problems with the electricity connection.
Alternatives
Visitor Feedback

Views expressed in these comments are those of the individual contributor. User accounts are managed by Facebook.
We would like the companies named to check here regularly but we can't force them to do so.