Paulstown services
(Seirbhísí Baile Phóil)
Location:
M9 at exit 7
(also accessible to traffic on the R712 and R912)

Signposted from the road.
Access/Layout:
Offline (
Single site located at a junction
)
As part of Applegreen's expansion, Paulstown is one of their latest private motorway sites to open. It's a small site sited on the R912.
Facilities
Catering: Burger King Drive Thru, Chopstix Noodle Bar, Costa Coffee, Subway, The Bakewell Shops: Off Licence Main Amenities: Children's Play Area, Picnic Tables, Showers Hotel: none Forecourt: Applegreen
Parking Prices
Parking is free for all vehicles for the first two hours only. Further information is not available, please update this if you know.
Contact Details
🏢 Address:
Applegreen Service Area
Jordanstown
Paulstown
Co. Kilkenny
Eircode: R95 R2X6
📞 Telephone number:

(059) 972 6540

🗺 Grid reference: S 65256 59185


Trivia and History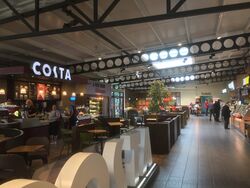 Inside the services.

---
Like most Irish services, the building is a combined dining area and forecourt sales shop, with an entrance for each. One of the entrances is around the side.
To help it blend in, the building has grey stone-effect walls on the outside, and wood-effect on the inside. With access roads all around it, the whole site feels slightly small.
The shower block is provided in a second building by the lorry parking.
Alternatives
Visitor Feedback
We launched a new system to display public feedback in December 2021. It will take time for new comments to appear. Users will need to register with CommentBox to leave reviews, and you can do so quickly below:

Views expressed in these comments are those of the individual contributor. User accounts are managed by CommentBox.io.
We ask the companies named to check here regularly but we can't force them to do so.