Medway services
Location:
M2 between J4 and J5

Signposted from the road.
Access/Layout:

Single site built upon the motorway.



The only significant service area on the M2/A2 route, Medway is very old and consists of one building built across the road. The services are quite quiet as new routes such as the M20 and the Channel Tunnel Rail Link have meant that the M2 is no longer as important as it used to be.
Facilities
COVID-19 update: These details were updated on 30 March 2021, with changes caused by COVID-19.
Catering: Burger King, Costa, Greggs, Costa Express, Krispy Kreme Shops: M&S Simply Food, WHSmith Main Amenities: Changing Places, Fourex Money Exchange, Showers Hotel: Travelodgebook Charging Points: Ecotricity Forecourt: on both sides: BP, Shop, Costa Express, Air1 AdBlue
and eastbound only: Jet Wash
Parking Prices
First 2 hours free for all vehicles, after which cars must pay £15 and HGVs, caravans and motorhomes £32. HGVs can pay £34 to include a £10 food voucher.
Prices are paid using PayByPhone. The location code is 2454 (westbound) and 2453 (eastbound).
The fees are strictly enforced by CP Plus.
This information is provided to us by third parties. You should always check with staff on site.
Contact Details
🏢 Address:
Moto Services
Medway Pavilion
Farthing Corner Motorway Services Area
M2
Rainham
Gillingham
Kent
ME8 8PQ
📞 Telephone number:

01634 236900

🗺 Grid reference: TQ817634


Trivia and Design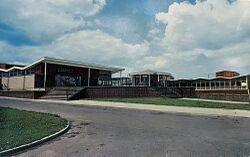 See also: History:Medway

Medway opened as Farthing Corner services. It has a unique layout where the building straddles the motorway with an elegant stride, avoiding the clunky and unpopular two-storey arrangement that other service areas of this era had.
Medway has a works depot located on the westbound slip road back on to the motorway. The poor road markings mean that it is easy to go wrong here and, instead of rejoining the M2, end up passing through the secret exit (which in this case isn't gated) and end up in Rainham. This was first raised as an issue in 1964 and has persisted ever since.
On 3 December 2010 the M2 through the services was closed and diverted through the car park following a broken window on the bridge caused by storm damage.
Recent Changes
The restaurant and sun terrace became a Burger King unit, mounted directly above the road.
The Costa outlet here was refurbished and relocated in January 2015 to make way for the M&S Simply Food store.
Following numerous complaints, the toilet facilities on site gained a major refurbishment in January 2019.
Alternatives
Visitor Feedback

Views expressed in these comments are those of the individual contributor. User accounts are managed by Facebook.
We would like the companies named to check here regularly but we can't force them to do so.