Lusk services
(Ionad Seirbhíse Lusca)
Location:
M1 between exit 4 and exit 5

Signposted from the road.
Access/Layout:
Online (
Two sites located between junctions, with no public connection between them
)
The first service area north of Dublin is an online one, managed by the SuperStop Consortium.
Facilities
Catering: Burger King, Braeburn Coffee, Costa Coffee, Freshii, The Bakewell, Chopstix Noodle Bar (northbound only) Shops: Applegreen Shop Amenities: Children's Play Area, Showers, Tourist Information Display Outdoor Space: on both sides: Children's Play Area, Picnic Area
plus northbound only: Grass area around building
and southbound only: Wild meadow behind lorry park and behind petrol station Charging Points: on both sides: Applegreen Electric 50kW CCS & 50kW CHAdeMO
and southbound only: ESB ecars 50kW CCS, 50kW CHAdeMO & 43kW Type 2 Forecourt: Applegreen, Car Wash, TOP Oil
All facilities except the fuel payment, a toilet and a shower close at 23:00.
Parking Prices
Parking is free for all vehicles, up to a maximum of 4 hours for cars and 12 hours for other vehicles.
This information is provided to us by third parties. You should always check with staff on site.
Contact Details
🏢 Address:
Round Towers Service Station
Corduff
Lusk
Co. Dublin
Eircode: K45 X395
📞 Telephone number:

01 841 5686
Trivia and History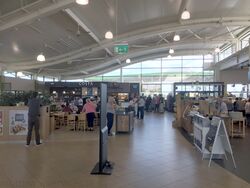 Inside the amenity building.

---
Lusk was known as 'Round Towers services'. During planning, it was called 'M1 South services', referring to its northern partner.
The service area opened on 8 September 2010, under a 25-year contract. It was part of 'tranche 1', the first three service area contracts to be awarded in Ireland. It replaced an Applegreen forecourt at Balbriggan as the largest service area on the route. Although not a signposted service station, Applegreen built Balbriggan to get an early foot-in on the route. The Balbriggan project was first proposed by an enterprising land owner in 1991.
Bids to operate the service areas were received by Applegreen, Esso, Top and Welcome Break. Welcome Break's consortium "Service Area Solutions", was shortlisted, but Welcome Break described the traffic levels as "unrealistic". Ironically, Applegreen won the contract (as SuperStop) and are now Welcome Break's parent company.
In terms of road layout, Lusk is designed like many 1990s British service areas, such as Tibshelf. It could effectively be its own dumbbell interchange. Externally, the design is like newer services, with relatively low land prices affording a very spacious design. Although the two buildings are the same, the car park arrangement is different.
The building is a standard Applegreen layout, but with an additional toilet block accessible from outside, for use when the main building is closed. The parking areas were expanded in December 2020, as this was designated a stacking point as part of Dublin's Brexit preparations.
In 2017, the service station sold fuel for 88.5 cent a litre as part of a promotion celebrating that it had recently sold a winning €88.5m lottery ticket. The discount was stopped by the National Roads Authority as the queues were disrupting the motorway.
Alternatives
Visitor Feedback
Visitors can leave public feedback on their experience by logging into the CommentBox app. You can do so quickly below:

Views expressed in these comments are those of the individual contributor. User accounts are managed by CommentBox.io. Registration helps prevent automated spam.
We ask the companies named to check here, but we can't force them to do so.