Leigh Delamere services
Location:
M4 between J17 and J18

Signposted from the road.
Access/Layout:

Two sites located between junctions, connected by a pedestrian footbridge.



Two services located on the M4 near Bristol. The eastbound side exterior is slightly larger and it has a small field by the hotel and a lot more trees.
Facilities
COVID-19 update: These details were updated on 7 May 2021, with changes caused by COVID-19.
Catering: Burger King, Chow, Costa, Greggs, Costa Express, Krispy Kreme, M&S Coffee to Go Shops: on both sides: Cotton Traders, M&S Simply Food, WHSmith
plus westbound only: Top Gift, Travellers Main Amenities: on both sides: Changing Places, Showers
plus westbound only: Multi Faith Room Hotel: Travelodgebook west | book east Charging Points: Ecotricity Forecourt: BP, Shop, Costa Express, Greggs, Air1 AdBlue, LPG (FloGas)
Parking Prices
First 2 hours free for all vehicles, after which cars must pay £15 and HGVs, caravans and motorhomes £27. HGVs can pay £29 to include a £10 food voucher.
Prices are paid using PayByPhone. The location code is 2451 (westbound) and 2452 (eastbound).
The fees are strictly enforced by CP Plus.
This information is provided to us by third parties. You should always check with staff on site.
Contact Details
🏢 Address:
Granada Hospitality Ltd
Leigh Delamere Motorway Services Area
M4
Leigh Delamere
Chippenham
Wiltshire
SN14 6LB
📞 Telephone number:

01666 837691

🗺 Grid reference: ST890790


Trivia and Design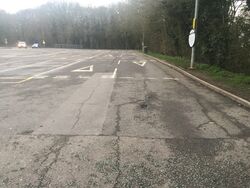 See also: History:Leigh Delamere

Leigh Delamere lends its name to Michael's former protégé in the 2020 American miniseries Your Honor. It was also a scene in a 2009 episode of Gavin & Stacey, a show which spoke a lot about the M4's service areas, but on this occasion the scenes were actually filmed at Cardiff Gate.
An Arlo's pantry & kitchen and a Chow restaurant opened here on the westbound side on 8 March 2016 as part of a thorough refurbishment of the dining area. In early 2018, both restaurants were added to the eastbound side nearly 2 years later than the westbound side gained theirs. Both Arlo's closed in late 2019 in favour of fast food options.
It was thought that as part of the eastbound refurbishment, the former EDC serving area and kitchen were going to be replaced with a KFC. However, an internal children's play area and extra seating filled this space instead.
A Greggs counter opened within the westbound forecourt on 16 March 2017. The eastbound forecourt then gained a Greggs counter two years later in March 2019. These both replaced Costa cafes.
In November 2019, Moto were granted planning permission to build a Costa Drive Thru on both sides here. The eastbound drive thru will be positioned to the south of the filling station whilst the westbound drive thru will make use of the current long loads bay with the long load bay being repositioned to become part of the lorry park.
Following the coronavirus lockdown in 2020, the westbound Regus Express meeting room permanently closed.
Alternatives
Visitor Feedback

Views expressed in these comments are those of the individual contributor. User accounts are managed by Facebook.
We would like the companies named to check here regularly but we can't force them to do so.