Travelodge
Travelodge is a budget accommodation chain which spread to roadsides across the country, including most Moto motorway services.
Now owned by Dubai International Capital, Travelodge customers usually book in advance, which means its hotels tend fill up even if they are in isolated locations. Since the advent of hotel comparison websites, some people have been caught out as they didn't realise many Travelodges are traditional motels and can't be safely accessed without a car.
As Travelodge provides the hotel only, in most locations dining is limited whatever is available across the road.
History

Travelodge is based on the US brand of the same name, even though they are now totally separate. Trusthouse Forte had owned the American brand since 1973, and they then used it to introduce the TraveLodge name to their British motorway and major A-road service areas.
The five motels they chose were mostly converted from Excelsior Motor Lodge, having been built in around 1970 with a traditional motel-style building. They were generally aimed at businessmen.
Budget Brand
The idea of having a nationwide budget hotel chain started with fellow Forte brand Little Chef Lodge in 1985. In 1988, the two brands were merged and renamed Forte Travelodge. A new branch in Cambridge marked the start of Travelodge's transformation into a fast-expanding, low-cost business model that saw itself as providing family-friendly 'lodges' which steered clear of the American 'motel' image.
The Little Chef Lodge business model that would now be used by Forte Travelodge had received a positive reaction from the tourism industry, and the hospitality industry commented on Forte's ability to take advantage of spare land next to their Little Chef restaurants, often in rural areas. Most Forte Travelodges opened in conjunction with Little Chef, and the two chains would become almost inseparable. They used each others' management, resources and facilities (such as car parks) to keep their operating costs low.
Travelodge frequently trace their history in the UK back to the Barton-under-Needwood branch. This wasn't branded Travelodge until 1988, but Travelodge's reasoning is down to a technicality of how the merger was organised internally. In any case, it was all managed by Forte, and the name 'TraveLodge' was being used in the UK some 20 years previous. The Barton-under-Needwood branch is the oldest that is still trading as a Travelodge today.
While many Forte Travelodge customers were 'trading up' from the less desirable accommodation they would normally stay in, the recession of the early 1990s encouraged many businessmen to 'trade down', and these became loyal Travelodge customers too. Forte built Travelodges at many of their Welcome Break service areas, where a "spend £5 on food and get 0.01p off accommodation" voucher scheme took place.
Forte Travelodge were aiming for 100 branches by 1991, and spread to city centres, as well as to Ireland and Spain. The Irish branches were unusual: they were part-owned by Aer Lingus, itself part-owned by the Irish government. The two branches, Dublin-Swords and Cork, were both close to airports, and 13 more were planned across tourist hotspots. Forte also made plans for Travelodges on motorways in Northern Ireland.
By 1990 Travelodge had 56 branches in the UK. As part of a corporate restructure, the name was changed to just 'Travelodge', and it was now Forte's main low-cost accommodation brand. Branches continued to open across the country, and the words "travel lodge" became synonymous with roadside accommodation despite Travel Inn being larger.
Change Of Direction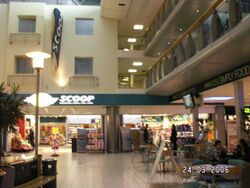 In 1995 Forte were under immediate pressure to strengthen their business. They announced that they would be dropping all of their low-cost brands, including Travelodge. It would have been sold to Whitbread, who owned Travel Inn. Granada thought that Forte's low-cost brands were the most desirable, and when they purchased Forte in January they converted their own Granada Lodges became Travelodges. Welcome Break was sold shortly afterwards, and those partner motels were changed to Welcome Lodge.
Granada started opening Travelodge branches in city centres, independent from Little Chefs. They called these "urban lodges". These would go on to make up the majority of Travelodge's new openings from now on.
Knowing that a sale was coming, Aer Lingus ended its partnership with Travelodge, and no new branches opened. Granada were keen to take in more of the Irish market, but in keeping with their new business model, the next branches all opened in city centres.
When Compass restructured the former Granada business, it sold Little Chef and Travelodge as one item. They were purchased by Permira, who set about splitting them up, ending the famous partnership. As Travelodge is no longer owned by a motorway service area operator, there is no guarantee that any more motorway sites will open.
Travelodge continues to try to shake off its 'roadside' and 'no frills' image. While many of the Forte era hotels are still trading and still charge low prices, some have closed, especially those which lost their neighbouring restaurant. These have then been bought by other low-rent names such as Redwing Lodge or Rivington Lodge.
Locations
Travelodge operate at almost all Moto services. They are: [view on a map - Download KMLrefine search]
A-road Services
Travelodge can be found at many A-road services:
Former Locations
Travelodge no longer operates at the following official service areas:
Visitor Feedback
We recently launched a new system for recording public feedback. It will take time for new comments to appear. Users will need to register with CommentBox to leave reviews, and you can do so quickly below:

Views expressed in these comments are those of the individual contributor. User accounts are managed by CommentBox.io.
We ask the companies named to check here regularly but we can't force them to do so.