Costa Coffee
Costa Coffee
| | |
| --- | --- |
| Locations: | 65 MSAs |
| Often accompanied by: | EDC, Burger King |
| Used by: | Moto, Roadchef, Extra |
| Introduced: | 2000 |
| Predecessors: | Cafe Continental, Caffè Ritazza, Coffee Nation, Little Chef, LP4, Upper Crust |
| Successors: | Nescafé Nation, Greggs, Subway, Starbucks on the Go |
| Typical opening hours: | Most motorway sites 24 hours |
| See also: | M&S Food, Starbucks |
It feels like there's not a building in Europe which doesn't serve Costa, usually in several places at once. This is certainly the case on the motorways.
The brand started in London in 1971, and by the early 2000s Costa Coffee and its slogan at the time "Italian about coffee" was becoming a familiar sight in most town centres and shopping centres. It had been specially developed to take advantage of the growing demand for takeaway coffee.
By 2018, Costa had become the UK's biggest coffee shop chain and some shareholders were calling for it to be separated from the Whitbread Group. They sold it to Coca Cola for £3.9 billion. A highly-publicised partnership with M&S Food in November 2021 saw M&S Food sold at Costa, in doing so introducing the M&S range to Roadchef service areas.
The 2022 Transport Focus study found that Costa was by far the most popular brand on the motorway network.
The prices charged at Costa are set by the franchisee, and on the motorway these tend to be heavily inflated. The fact people continue to pay may explain why so many Costas have opened up near the motorways.
Motorway History
Roadchef were the first operator to introduce Costa to their motorway services. They approached Costa with a proposal in 1999, and opened the first one at Stafford in April 2000. A nationwide investment programme then saw Costa replace Cafe Continental at all Roadchefs.
Granada partnered with Caffè Ritazza and hoped to see the same success. Their successors, Moto ditched Caffè Ritazza in 2009, in favour of Costa. Welcome Break, who had been keen to be different, eventually adopted Starbucks and were keen to stress that this set them apart. Until Starbucks on the Go machines became widely available, Welcome Break offered Costa Express too.
Over the years the availability of Costa at service stations has spread from being tucked away in an old unit or a stand next to the restaurant to being served outside the entrance, in the restaurant, from a portable stand, in the shop and in the petrol station - usually all at the same time.
The lounges have become increasingly stylish as the image of service stations and of Costa has changed. Many services now rely on Costa's menu only to meet their obligation to provide food 24 hours a day.
In July 2016, Roadchef opened their first Costa drive thru, in a similar style to Welcome Break's Starbucks drive thrus. Drive thru Costas can now be found at most Moto and Roadchef services.
Road Signs
Roadchef were the first operator to register a subsidiary company 'Roadchef Costa Coffee', which sneakily allowed them to advertise their relationship with Costa while technically not breaching the ban on advertising. Moto later decided to go one better, changing their headerboard to 'Costa M&S' or other variants.
Other Roadside Sites
Many former Esso On the Run stores used to include a Costa café, where you could pay for your fuel at the same time. These all closed by 2015 and many have been replaced by Subway and Greggs at Euro Garages sites.
Through its relationship with Moto, Costa has become a popular choice to replace former Little Chef restaurants. However, Euro Garages are currently the fastest-growing operator in the industry, and as Euro Garages use Starbucks, Costa has begun to take a back seat in this field.
Drive Thru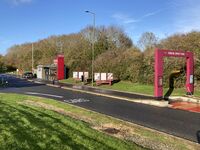 In July 2016, Roadchef were the first operator to introduce a Costa Drive Thru unit to a motorway service area at their Rownhams eastbound site. One has also opened on the westbound side since and now opening at other Roadchef sites. Then, in April 2017, Moto also introduced a Costa Drive Thru to their Reading eastbound site and they are rolling it out to other sites too.
Unlike the Starbucks sites, all of these Costa drive thrus don't offer any seating. It is being included in many new service station proposals.
Costa Express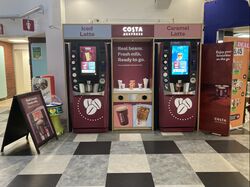 In March 2011 Whitbread, the then-owner of the Costa Coffee brand, purchased Coffee Nation with the intention of re-branding it as Costa Express.
Coffee Nation was a brand widely seen across motorway service areas providing coffee machines within petrol forecourts and WHSmith outlets. They are also seen at most A-road services.
Costa Express machines now offer five varieties of hot drinks and are the largest coffee machine provider for forecourts in the UK. Their widespread use allows a large number of petrol stations in the UK to be classed as a full service station by providing the key requirement of serving hot drinks with very low running costs.
During mid 2018, Welcome Break started to phase out the use of Costa Express at their sites in favour of Starbucks on the Go machines.
Locations
Costa is a prolific brand with sites to be found all over the country. Examples of service areas they can be found at are as follows: [view on a map - Download KMLrefine search]
Motorway Locations
Costa stores are generally found at motorway service areas operated by Moto, Roadchef or Extra. These are:
Motorway Drive Thrus
Costa Drive Thru units can now be found at many Moto and Roadchef service areas. These are: [view on a map - Download KML]
Ireland
Costa stores can also be found at the following service areas in Ireland:
Costa Express Only
The following motorway services provide Costa Express machines only: [view on a map - Download KML]
A-road Locations
Many A-road service areas have Costa Express machines. The following A-road services have full, Costa-branded stores:
A-road Drive Thrus
Costa drive thrus can be found at the following A-road service areas:
Former Locations
Costa has been removed from the following official service areas:
Visitor Feedback
Visitors can leave public feedback on their experience by logging into the CommentBox app. You can do so quickly below:

Views expressed in these comments are those of the individual contributor. User accounts are managed by CommentBox.io. Registration helps prevent automated spam.
We ask the companies named to check here, but we can't force them to do so.