Dover Port
Location:
Eastern Docks
(off the A2/A20 Jubilee Way Roundabout)
Next to queuing lanes 40 (Terminal 1) and 180 (Terminal 3)
Access/Layout:

Single site located within a larger complex.



Motorway operator Moto also operate a pair of facilities buildings for people passing through two of the terminals at Dover's Eastern Docks. This page covers those terminal buildings only, not the whole docks complex.
Facilities
COVID-19 update: These details were updated on 12 April 2021, with changes caused by COVID-19.
Catering: Costa, Costa Express Shops: WHSmith
A Travelex Bureau de Change and information desk are also provided within the docks, but not ran by Moto.
Contact Details
🏢 Address:
Moto Retail Catering
Eastern Docks
Dover
Kent
CT16 1JA
Trivia and History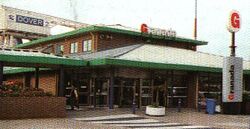 The Terminal 1 building with Granada branding.

---
The Terminal 1 building was built by Welcome Break. It opened on 9 July 1990, following a £2.5m investment. A poster dated 1992 stated that it was available to HGV drivers only, although other reports described it as a "passenger" terminal.
For Welcome Break, the development gave Forte access to an increasingly important trading route, while for Eastern Docks it formed one of a number of investments in passenger facilities which they were making at the time. The main facility was a Granary restaurant.
The facility became property of Granada when they took over the company in 1995. As it wasn't a motorway service area, Granada weren't forced to sell it off, so they kept it and extended it. The restaurant became Fresh Express, with a Burger King.
This building is now run by their successors, Moto. It is not branded Moto, but instead "Food Village"; a brick building with green paint and blue signage. The main restaurant became Moto's EDC and Caffè Ritazza combination, which were later replaced by Costa. As of 2021, the fireman's switch on the building is still labelled "Granada".
In 2004, a second catering building was built here for use by Moto. This one is in Terminal 3, and branded "Broadwalk Shopping". This used a more modern, tall design with a glass front and seating spread over two levels.
Until 2016, a Caffè Ritazza outlet was still advertised on the big screens next to each dock here, even though it hadn't existed as part of the facilities here for some time.
As part of Dover's Brexit preparation plans, a new road layout has been proposed that will see the terminal buildings replaced. That work is now scheduled for late 2021.
Similar Facilities
There was a Mobil filling station at the entrance to the docks, not related to the Moto facilities discussed here. This was closed in about 2004.
In 2007, Welcome Break returned to the market by taking on a similar site a few miles down the road in the Eurotunnel. They left this in 2013.
Alternatives