Midway Food Court
Location:
M7 at exit 17
(also accessible to traffic on the N77 and the R922)

Not signposted in advance.
Access/Layout:
Offline (
Single site located at a junction
)
This is the Irish service area. For Midway near Thirsk, see Gristhwaite. For Midway Garage in Coventry, see Stonebridge.
Before Ireland had any official motorway service areas, Midway Food Court was built at a busy junction to allow cars and coaches on the long M7 to "stop and revive".
It has now gained its missing petrol station, but because it closes at night, Midway is still not regarded as an official motorway facility.
Facilities
Catering: Braeburn Coffee, Burger King, Subway, Chopstix Noodle Bar, The Bakewell, Dijon, Grain & Go Shops: Applegreen Shop Amenities: Maldron Hotel Outdoor Space: Very small grass area; public footpath Charging Points: Charging Point Forecourt: Applegreen
Parking Prices
Free parking is provided for customers in cars and coaches. Further information is not available, please update this if you know.
Contact Details
🏢 Address:
Midway Food Court
Meelick
Portlaoise
Co. Laois
Eircode: R32 V09W
Trivia and History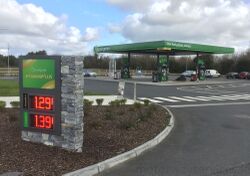 With the Irish government opposed to official, UK-style service stations, in 2004 Clontarf-based Meelick Partnership proposed their first food court next to the Togher Interchange. This had a retail area to the south, a hotel and gym to the east, a 623-space car park and the option of a second phase to the north. This proposal had planning permission but didn't happen.
The next plan had a landscaped car park with 290 spaces; this was then changed to a larger one with 347 spaces and space for a forecourt and drive thru to the west which weren't used, as well as space for the land to be sold. Another forecourt was proposed in 2011, in partnership with Topaz.
It opened with six catering units and a hotel, and stated that it was going to be the first of a nationwide chain. Early tenants were Little Caesars, Tapenade Bistro, O'Brien's and Subway. The hotel opened as a Comfort Inn and positioned itself as Ireland's first motorway hotel. It has a health club, a swimming pool and a buffet restaurant.
The owners' changed to Swords-based 'Midway Development Company' (later 'Midland Management'). In 2009 the existing brands were joined by Tapenade Healthy Bistro, Fresh and Noodle Bar. The latter two were replaced by Burger Shack and Shack Café. By 2013 Little Caesars had closed and Chicken Hut, Bagel Factory and The Happy Dragon opened, and in 2014 Dijon and Time To Eat joined, later joined by Real Gourmet Burger.
Having become increasingly involved in hospitality, Applegreen acquired the site in 2017 and introduced some of their brands, such as The Bakewell. A Burger King was rumoured to be added but this didn't happen until late 2019.
In 2018, Applegreen received planning permission to build a large petrol station to the north of the site, with a sales shop attached to the end of the existing building. This meant Midway would now resemble a larger version of Applegreen's motorway service stations across Ireland.
Construction started in April 2019 despite objections from local forecourt owners and Transport Infrastructure Ireland. Applegreen also revealed that the Midway Food Court had been struggling to attract trade since it opened, and things were only just starting to pick up.
The new forecourt opened in August 2019. Around this time, O'Briens and Bagel Factory closed, leaving a line-up consisting mostly of common Applegreen partners. Freshii was suspended in March 2020, in response to the COVID-19 outbreak.
Despite it not being signed from the M7, a 2023 policy document did count Midway Food Court as an official service area, for the first time.
Rival Developments
See also: Portlaoise Plaza

M7 exit 17 has proven popular for development. In 2009, a landowner close to the junction was trying to gather interest from a developer wishing to build a motorway service area. In 2017 Supermac's revealed that they were in talks to build the Portlaoise Plaza here.
The Portlaoise Plaza eventually opened on 31 July 2020. Applegreen had objected to it, arguing that two service areas would be unnecessary and that Midway Food Court may need to be scaled down if it loses any trade.
Alternatives