Portlaoise Plaza
Location:
M7 at exit 17
(also accessible to traffic on the N77 and the R922)

Not signposted in advance.
Access/Layout:
Offline (
Single site located at a junction
)
A brand new Supermac's Plaza has opened opposite Midway Food Court. This means it's right in the middle of the M7 and the second plaza to open on this motorway, after the original.
Facilities
Catering: Mac's Place, Papa John's Pizza, Supermac's Drive Thru, SuperSubs, Bewley's Barista, Moo Parlour, Krispy Kreme, Coca-Cola Freestyle Shops: SPAR Amenities: Local Information, Meeting Room Outdoor Space: Very small grass area by lorry parking Charging Points: ESB ecars HPC 150kW CCS & 50kW CHAdeMO Forecourt: Texaco
Parking Prices
Further information is not available, please update this if you know.
Contact Details
🏢 Address:
The Portlaoise Plaza
Togher
Portlaoise
Co. Laois
Eircode: R32 V97T
Trivia and History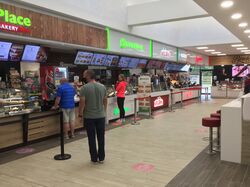 The building is very similar to the existing plazas.

---
Being in the middle of the M7 between Dublin and Limerick, exit 17 has proven to be a popular place for development. This started with the Midway Food Court, which never officially qualified as a motorway service area, because it wasn't open 24 hours and initially it didn't sell fuel. The Portlaoise Plaza is not currently treated as one either; it's not entirely clear why, and Transport Infrastructure Ireland didn't give us an answer when we enquired. A 2023 policy document did count Portlaoise Plaza as an official service area, even though it's not signed.
In winter 2020, Supermac's used the car park to host drive-in movie events. It also hosts regular car meets. Today FM broadcast from the plaza on 25 August 2021.
Planning
In 2009, a landowner close to the junction was trying to gather interest from a developer wishing to build a motorway service area. In 2017 Supermac's confirmed they were in talks to build a Portlaoise Plaza here, similar to the popular one down the road. They purchased a 109-acre plot of land for €3.25 million, but later sold 76 acres to the council.
A planning application was formally lodged in March 2018 for a two-storey building with a food court, a drive thru and a forecourt. Several objections were raised by local businesses, arguing that the roundabout can't handle it, that the building design is poor and that it merely replicates the existing food court. Planning permission was granted, and a subsequent appeal from Applegreen claiming that two service stations on one roundabout would be confusing was overthrown.
Transport Infrastructure Ireland were also thought to have concerns, but they did not formally appeal. One especially interesting remark from them was: "The Council are requested to address the proliferation of such service areas at national road junctions in the County". TII have a vested interest in their own service areas, of which there are currently none on the M7.
An Bord Pleanála argued that the Portlaoise Plaza would be larger than the Midway Food Court, and have better road access, while Applegreen argued that Midway Food Court may need to be scaled down if it loses any trade.
The Portlaoise Plaza represents a €10m investment from Supermac's, creating 120 jobs. There is parking for 144 cars, 20 HGVs and 10 coaches. Work started on its construction in early 2020, with a scheduled opening of May 2020, but this was postponed due to the COVID-19 pandemic.
Opening
It opened on 31 July 2020. The publicity surrounding the opening was inevitably dominated by talk about COVID-19, with Supermac's founder Pat McDonagh saying he was "optimistic" about the new plaza despite "the mother and father of all situations". He also talked about the possibility of modifying the building to support hot desking, after praising Portlaoise town for its potential to become a "meeting place".
The run-up to the opening was also marred by fake internet rumours claiming the place was going to be called "Queen's County Plaza", which caused outrage across the country. Further difficulties were encountered the following week, when Co. Laois was placed into a COVID-19 lockdown. Restaurants had to become takeaway only and anybody living outside Laois was told not to stop when travelling through the county.
An additional entry and exit were later provided, leading to a new roundabout on the road to Cúil na Móna. This allows HGVs to avoid circulating back through the site, and allows direct access from the planned new industrial area.
Alternatives
Visitor Feedback
Visitors can leave public feedback on their experience by logging into the CommentBox app. You can do so quickly below:

Views expressed in these comments are those of the individual contributor. User accounts are managed by CommentBox.io. Registration helps prevent automated spam.
We ask the companies named to check here, but we can't force them to do so.