Manor Stone services
Location:
M8 at exit 3
(also accessible to traffic on the R433)

Signposted from the road? Yes (as tourist attraction)
Access/Layout:
Online (
Single site located at a junction
)

Another large service area recently converted to the Circle K brand, this one at the top of the M8.
Facilities
[
edit
]
Catering: Supermac's, Papa John's Pizza, Hot Deli, Simply Great Coffee Shops: Retail Store, Manor Stone Garden Centre, Steeltech Sheds Main Amenities: Tesla electric vehicle charging point, Electric Vehicle Charging Point Motel: none Forecourt: Circle K, Car Wash
Parking Prices
[
edit
]
Further information is not available, please update this if you know.
Last updated August 2018.
Contact Details
[
edit
]
Address:
Topaz Service Station
Tintore
Ballacolla
Co. Laois
Eircode: R32 X8H7
Telephone number:

057 8734010

Grid reference: S 34931 79524


Trivia and History
[
edit
]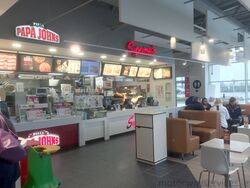 Inside the services.

---
The service area is built on the site of a former quarry, called Manor Stone. Although Topaz refered to it internally as Ballacolla (derived from the nearby settlement Ballycolla), the public branding says 'Manor Stone service station'.
The main amenity building is branded Re.Store, with a sales shop and small Supermac's restaurant at the front. There are then three exits to the surrounding roads and toilets at the back. Although Re.Store branding should have been removed when Circle K was introduced in 2018, most of it still survives.
A garden centre, car sales and car repairs centre are accessed through the services.
Alternatives
[
edit
]
Visitor Feedback
Views expressed in these comments are those of the individual contributor. They are moderated by Facebook.
We ask the companies named to check here regularly but can't guarentee they will do so.
Main Page | Photo Gallery | Location, Map and Directions