Cashel services
(Seirbhísí Caiseal)
Location:
M8 at exit 8
(also accessible to traffic on the R692)

Signposted from the road.
Access/Layout:
Offline (
Single site located at a junction
)
A tiny filling station with a shop attached, alongside a McDonald's restaurant. Parking can be short of supply here.
Facilities
Catering: McDonald's Drive Thru, Cafe, Hot Deli, Krispy Kreme, Simply Great Coffee Shops: Retail Store Amenities: Showers Outdoor Space: Small grass verge at far end of car park; Children's Play Area Charging Points: ESB ecars 50kW CCS, 50kW CHAdeMO & 43kW Type 2; IONITY 350kW CCS Forecourt: Circle K, Car Wash
Parking Prices
Further information is not available, please update this if you know.
Contact Details
🏢 Address:
Wallers-Lot
Cashel
Co. Tipperary
Eircode: E25 RC42
Trivia and History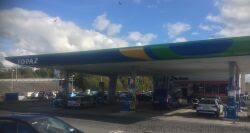 The service area with Topaz branding, pictured in 2016.

---
The service area opened on 9 June 2011. It was developed privately following delays to the National Road Authority's plans for public developments.
The amenity building acts like a typical forecourt sales shop, but has a main entrance by the car park, and acts as a large shop and servery too, with a second-storey lounge.
Note there are a lot of places in Ireland named Cashel, but this is the one in Co. Tipperary.
Alternatives
Visitor Feedback
We recently launched a new system for recording public feedback. It will take time for new comments to appear. Users will need to register with CommentBox to leave reviews, and you can do so quickly below:

Views expressed in these comments are those of the individual contributor. User accounts are managed by CommentBox.io.
We ask the companies named to check here regularly but we can't force them to do so.