Galway Plaza
Location:
M6 at exit 16
(also accessible to traffic on the N65 and the L4193)

Signposted from the road.
Access/Layout:
Offline (
Single site located at a junction
)
Following the success of the Barack Obama Plaza, Supermac's were hoping to build on its success and roll out a network of them. Galway was next to open.
Facilities
Catering: Papa John's Pizza, Supermac's, SuperSubs, Mac's Place, Bewley's Barista Shops: SPAR Main Amenities: Local Information Hotel: none Charging Points: ESB ecars Forecourt: Texaco
Parking Prices
Further information is not available, please update this if you know.
Contact Details
🏢 Address:
Junction 16
Carrowkeel
Kiltullagh
Athenry
Co. Galway
Eircode: H65 EK28
📞 Telephone number:

091 848060

🗺 Grid reference: M 59595 23944


Trivia and History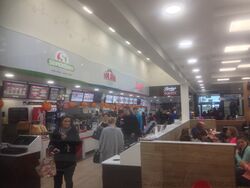 Inside the services.

---
The Plaza opened on 12 February 2016. It was developed privately following delays to the National Road Authority's plans for public developments. Co. Galway is the spiritual home of Supermac's so it was an obvious place to target with a large development. TII are investigating building their own motorway service area west of here at Athenry.
The HGV filling station could almost be a separate development, being much further down the service road.
In planning, Supermac's referred to the services as the Kiltullagh Plaza. Transport Infrastructure Ireland continue to call it Kiltullagh, despite the prominent Galway branding. In 2019 they even placed large signs on the M6 referring to a service area at Kiltullagh.
The Galway Plaza won 'Best Forecourt Facilities' at the 2019 Forecourt & Convenience Retailer Awards. In 2018 it won the same award, as well as 'Best Motorway Service Station'.
On 16 July 2021, iRadio In The Afternoon was broadcast live from the plaza.
Alternatives
Visitor Feedback
We launched a new system to display public feedback in December 2021. It will take time for new comments to appear. Users will need to register with CommentBox to leave reviews, and you can do so quickly below:

Views expressed in these comments are those of the individual contributor. User accounts are managed by CommentBox.io.
We ask the companies named to check here regularly but we can't force them to do so.