Children's Play Areas at Motorway Services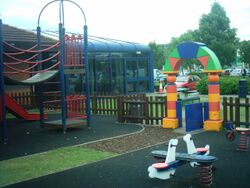 The following services have a children's play area, either indoors or outdoors.
Since the 1990s, services have included increasingly larger play areas to help children let off steam. Donington and Leigh Delamere have begun a trial with large soft play areas.
Further details on each of the services can be found by tapping on its name. You may prefer to go to Services Search and tick the 'children's play area' box, as this will allow you to further customise the search. The list below is provided as a brief summary only to help power the back end of the website - it shouldn't be used for journey planning.
Services With A Play Area
Please note that some of these play areas may be on one side of the road only. For journey planning, you should use the formal search.
Northern Ireland
A-road Services
Ireland (Rep. Of.)