Adjacency Rule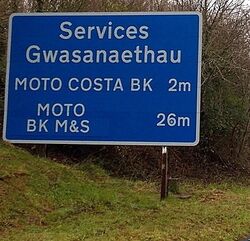 The adjacency rule is a term used to describe the policy of the Ministry of Transport and its successors which banned the contract for a motorway service area being awarded to a company who already owned an adjacent one. The rule applied regardless of whether the two services were on different motorways, so where two motorways crossed, you needed four services ran by four different companies.
The policy was applied when service areas were sold between companies, and even when new infill services were expected to open between two existing sites.
The Prior Report of 1978 recommended that the adjacency rule stopped being applied rigidly. However, right up until 1992, the Department of Transport said they would "normally" follow it.
Since 1992 operators have been able to build their own service stations without needing to win a contract. As a result, there is no adjacency rule to enforce and you are allowed to have cases such as Moto owning three services in a row on the M4. Instead, the Monopolies and Mergers Commission now have the responsibility of investigating companies who appear to be forming a monopoly, which they did with Granada in 1996.
In Ireland, service area contracts are awarded in groups, which is a process that favours the country's two main petrol station operators. Fortunately this system is accompanied by a number of private developments, which introduces some variety to the motorways.
Introduction
When the first two M1 services were opened to tender, the Ministry were looking for two different operators, to ensure the trial had a bit of variety. Motorway Services Ltd made respectable bids for both and could have easily won them.
In 1962, Motorway Services Ltd again made respectable bids for all three of the services planned for the M6. With their experience in catering and operation, and the money they had to throw behind it, Motorway Services Ltd were coming close to winning every tender they submitted. When the decision was made not to award them Knutsford, this policy was recommended and created to ensure there was not going to be a monopoly on the motorway network.
Exceptions and Subversions
Soon after it was created, an exception was granted allowing the very thing the rule was supposed to stop. Due to the difficulties faced at Newport Pagnell, Motorway Services Ltd were allowed to bid for Toddington and treat it as an overflow facility. They didn't win the bid. The same happened with Blue Boar at Rothersthorpe.
In the late 1960s, Granada were the first to claim the rule was stifling their performance. They were forbidden from bidding for Corley because they already owned Frankley, which was technically adjacent. However, once the M42 was open, nobody would be making that journey. They were eventually allowed to bid for Corley (which they didn't win), and more exceptions were granted in regions where traffic levels doing a particular manoeuvre were expected to be low.
Throughout the 1960s, Granada had been trying another trick. Most of their proposals were ridiculously large, their strategy being to build a restaurant with so many seats that there would be no reason for anybody else to build any services. In most cases, their strategy failed as their proposed large buildings were refused.
At Forton, Motorway Services Ltd were more underhand. The documents for the services specifically said they were forbidden from bidding because they already owned Charnock Richard. As a result, Motorway Services Ltd submitted a bid in the name of their parent company, Fortes, and claimed they didn't own any services. They were found out immediately and their proposal was rejected.
At Rownhams, Fortes were not allowed to bid because they owned Fleet which was going to be adjacent. However, an invitation was sent to them by accident, and they were reluctantly granted an exception.
Other Examples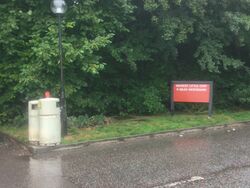 Now that operators are allowed to operate two consecutive services, some are starting to take advantage of this by spreading out facilities. At Knutsford, there is a shortage of space, so Moto encourage lorries to go to the next facility, Lymm. They are now doing the same with Scotch Corner and Barton Park.
Welcome Break have been running Days Inn motels, even at services they don't run. As a result, adverts at Fleet have told drivers if they can't stay there, they could always drive to the next services, Cobham and Winchester, where Welcome Break also run motels.
When Forte owned Little Chef, they intensively expanded it by taking over rival restaurants. As a result, they frequently have chains of facilities in a row, much to the frustration of lorry drivers who weren't usually able to park at them. This didn't get them investigated but did contribute to their downfall, as they ended up running facilities that had been designed to compete with each other.
Incidentally, in the early days of service stations, governments were terrified of fuel companies forming monopolies, which is why they ruled that service stations had to sell four competing brands of fuel.
Modern Monopolies
In 1996, Granada were referred to the Monopolies and Mergers Commission as their ownership of Welcome Break gave them control over well over 75% of Britain's motorway services, and its legacy can still be seen in the prevalence of Burger King. This was after their takeover of Pavilion, and its affects on the M4, had already been investigated.
In 2012, a long new section of A1(M) opened in Yorkshire, which little work put into building new services. Moto already owned Scotch Corner/Barton Park at the northern end, and Ferrybridge/Woolley Edge at the southern end. They were successful in applying to build Wetherby in the middle, and later acquired the only existing facilities at Leeming Bar, giving them a chain of four consecutive services - and they unsuccessfully applied to build a fifth at Broadsworth. This monopoly still stands unless somebody else is able to build a new facility.