Kinnegad Plaza
Location:
M4 at exits 10 and 12
M6 at exit 2
(also accessible to traffic on the R148)

Not signposted in advance.
Access/Layout:
Offline (
Single site located at a junction
)
A brand new Supermac's Plaza, located in Kinnegad itself, which is nestled within the M4/M6 interchange. At first it looks small and gets very busy, but there is a large and calm seating area upstairs.
Facilities
Catering: Papa John's Pizza, Supermac's Drive Thru, SuperSubs, Mac's Place, Bewley's Coffee, Boston Donuts, Krispy Kreme Shops: SPAR Amenities: Local Information Outdoor Space: Very small grass area by coach parking Charging Points: EasyGo 50kW CCS & 50kW CHAdeMO Forecourt: Texaco, LPG (FloGas), Jet Wash
Parking Prices
Further information is not available, please update this if you know.
Contact Details
🏢 Address:
The Kinnegad Plaza
Kinnegad
Mullingar
Co. Westmeath
Eircode: N91 N9YR
Trivia and History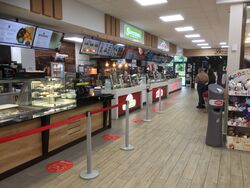 The busy food counter.

---
The Plaza was first planned in 2009, on land that had been designated for a commercial venture. It opened on 31 May 2019, much larger than originally envisaged, as a carbon copy of Supermac's existing plazas across the country, including the one down the road at Galway Plaza.
The M4 to the east of here is a tolled motorway, so although the plaza is a short distance from the motorway, it receives a lot of passing traffic from the old road to Enfield.
It is not officially acknowledged by TII as a service area for either motorway, probably because the road to get there is more than the "few hundred metres" required by their policy - even though it is physically located right next to them both. A 2023 policy document did count Kinnegad Plaza as an official service area for the first time, even though it's still not signed.
The forecourt boasts the "fastest truck fuel pumps in Leinster".
Although there is lots of SPAR signage around the outside of the site, inside their name is not used at all, and instead it looks more like an independent shop.
Alternatives
Visitor Feedback
Visitors can leave public feedback on their experience by logging into the CommentBox app. You can do so quickly below:

Views expressed in these comments are those of the individual contributor. User accounts are managed by CommentBox.io. Registration helps prevent automated spam.
We ask the companies named to check here, but we can't force them to do so.