MSO
:
Services we don't list
A line has to be drawn somewhere, and our rule is that we only list services which have a road sign to Diagram 2313 or Diagram 2919. That said, we also list other sites which are related to the topic of motorway services, and either generate a lot of interest or have a lot worth writing about.
We have attempted to outline our criteria for inclusion at MSO:Criteria.
This page exists as a sort-of purgatory for services. We don't want to create too many unnecessary pages because it is too much work for our volunteers to keep them up to date. These examples don't have any overwhelming argument to justify adding them to the database, but they do sort-of resemble pages which already exist. One day we might have the urge to include them, but for now we are just acknowledging them.
Generic Description Of A Facility

The Traffic Signs Regulations and General Directions (TSRGD) says that you can't use brand names on road signs that are giving directions, and instead it suggests using what it calls "a generic description of a facility".
This means that if you're trying to tell people that the next left turn will only take you to Asda, you have to call it a "Superstore". If you're trying to show them how to get to a petrol station, or maybe a choice of restaurants, you might be tempted to call it a "Services".
This means there are lots of examples of direction signs which point to "Services", simply because they weren't allowed to say anything else. That's a little bit different to the formal service areas, with formal signing in advance, which is what we normally write about. A list of places which match the TSRGD's definition, but not ours, is included below:
| Page | Evidence | Ruling |
| --- | --- | --- |
| Bolney (A272) | "Junction" - one sign at entrance | Not the same as Bolney. We do technically cover the A272, but not in much detail, and this place is very small. |
| Ye Olde Hutton Cafe (A38) | "Junction" - signs at entrance to lay-by | We do list the A38, so there is a case for it, but this is hardly a major section of road and it's not a service area in the traditional sense. |
| Ivy Garage (A38) | "Junction" - one sign on slip road | It's technically not signed from the A38. You do wonder if there were once more signs though. It could qualify as an unsigned site if there was more to say about it. |
| Turgis Green (A33) | "Junction" - one sign at entrance | The sign is there for clarity on the bend. We don't have much on the A33 anyway. |
| Saxondale (A46) | "Junction" - signed on the roundabout | Not signed from main road. We do cover the A46, and there is a bit of interest that it has been there for years. |
| Patcham (A23/A27) | "Junction" - signed on the roundabout | There is a tired old sign on the roundabout, but nothing else. We do cover the A23 and A27, but they might not get enough traction for unsigned services to be worth listing. |
| Kingsmeadow (A419/A429) | "Junction" - signed on the roundabout | Signed from the little roundabout only, not the main one. It's not a very well defined site. Bit of interest in the history and we do cover the A419. |
| Necton (A47) | "Junction" - signed at entrance | Just one sign opposite the Co-op. People have asked why it's not included on the A47. |
| Regiment (A130) | "Junction" - signed on the roundabout | We don't really cover the A130, but with Boreham and Braintree, it's nearly getting its own page. |
| Whiteparish (A27/A36) | "Junction" - signed at the lights | We do cover the A27 and the A36, but this is still only a very minor place. |
| Creekmoor (A350) | "Limited" | Has "Services" on the ADS (which is itself dodgy). Not a major road although we do cover the rest of the A350. |
| Balby (A6182) | "Limited" | Has a few "Services" signs on the lane designation signs, and Brookfield put their own symbols up, which definitely doesn't count! |
| Clifton (A453) | "Limited" | It has one "Services" sign which should really say 'Supermarket'. |
| Craigs (A9/A905) | "Limited" | Has a few "Services" signs on the lane designation signs. We do cover the A9. But it's in Stirling town centre with no long-distance traffic. |
| Gateway (i54 Business Park) | No | It has the word "services" painted on the road, but no signs. It could still qualify as an unsigned M54 service area (like Oval is to the M1), but that would have nothing to do with that paint. |
| Glenkindie, Ballater and Braemar (A939) | No | These are just villages and not service areas, despite the big "Services" list in Speybridge. |
| Uttoxeter (A50) | "Limited" | We do cover the A50 and could add the Shell forecourt as a limited site. The only reason we haven't is that there is already a Uttoxeter, which isn't great reasoning. |
| Woodbridge (A12) | "Limited" | One sign on a lamppost just before the southbound forecourt, no signage northbound. |
Aside from all of these, there are the classic exemptions that will never be included:
Gatwick Airport north & south (even though it has signs and is recognised by National Highways, it's still not signed from a main road)
Dublin Airport (not signed from main road)
Portland Retail Park (Mansfield) seems to be similar to them
And these complications:
N1 Dundalk - the signs are there but the place doesn't exist! Same goes for Swords really
Morrisons Boroughbridge. It was never properly signed, but used to have "Services" flag signs that now say "Superstore" but have symbols.
These last few are even stranger:
A5 Services (NI) - that's just its name! It's not actually an official service area.
Rho's Cafe (A48) - built on the old road, it's signed as a tourist attraction. Has clearly dedicated HGV parking, which is a boon.
Montford Bridge (A5) - a tourist attraction.
Brettenham Heath (A11) - signed as a tourist attraction. Has clearly dedicated HGV parking, which is a boon, and is marked by Roads.org.uk
Farnborough (A3013) - Ordnance Survey call it a service area, but the signs just say "Hotel/Restaurant/Petrol".
Codford (A36) - somebody has created their own road signs! Even though they are convincing, it's not official, so that's not good enough for us.
Hartford (A141) - signed on roundabout as "filling station", so not services, and we don't cover the A141.
Toome (A6 NI) - calls itself a "motorway services", as they often do in NI, but there is no motorway and it's not signed.
EG Group's Non-Services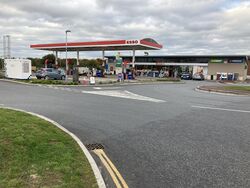 Euro Garages are on a spate of building new sites, and now they enthusiastically and confusingly call them all "services". Some of the largest examples are:
Beacon 62 (M62/M57)
Beehive (A6077) - signed on the ADSs, and has a roundabout named after it! But only a minor road, and no dedicated signage.
Churncote Island (A5) - in an area we already have good coverage of, may get confused with Shrewsbury
Colne (M65) - not that large, despite being on the M65 and wrongly labelled 'motorway services' by the media (currently suspended)
Coopers Lane (A580) - not especially large but a road we already cover
Dunball (A38/A39) - close to the M5 but not a motorway site
Dunnings Bridge (A5036) - although it's a main road, it's basically an urban area and is unlikely to qualify
Elgin (A96)
Earlsfield (M57)
Haddington (A1)
Hollinwood (M60)
Hornshill (M80)
Lochwinnoch (A737)
Maghull (M58)
Pinvin (A44)
Rosyth (M90)
Rushden (A6)
Saddle Inn (A582) - no HGV parking, unlikely to be signed
Tongham (A31/A331) - they call it "Tongham services", hardly unusual, but it says "serv" on the road. Still not signed.
As none of these have TSAs, they don't automatically qualify for inclusion in our database. There is still no reason why they can't be added, but they may not attract enough page views to be worth the effort.
Having said that, EG Group now advertise all their sites as "services", adding to confusion. We may need to monitor the effectiveness of all our "rules".
GRIDSERVE's Selection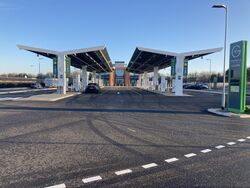 No GRIDSERVE site is recognised as an official service area by a national highway authority, but they are still worth keeping an eye on.
Bramley (A647/A657): we won't include it as it's an urban area
Braintree: already added as the A131 is kind-of busy, and it's historically significant
Bromborough: we cover the A41, but this isn't aimed at cross-country traffic, so no
Gateshead: we won't include it as it's an urban area
Gatwick South Terminal: we won't include it as it's Gatwick
Longbridge: may get its own page, depending on the detail, if/when it emerges
Markham Vale: we will add to the existing page
Norwich East: probably won't get its own page as the access is so convoluted
Plymouth: we won't include it as it's an urban area
Stevenage: may get its own page as we already cover the A1(M)
Yeovil: similar to Braintree, the A3088 is a bit of a cross-country route, and one that already has a picnic area.
Once we list more than two of their locations, we will probably need to create a "GRIDSERVE" page (spun-off from Braintree), which can keep track of developments. Once they have more than, say, 10 locations, we would then need to start pruning that list and only covering relevant locations. Uckfield appears to be a former plan, and as it was never a former service station, it shouldn't be added to our unbuilt service area lists.
It's still early days with electric forecourts. It may be that as they become more common, we realise that it isn't really our subject area and decide not to cover them, just like we don't list, say, every McDonald's that happens to be near a motorway. On the other hand it may turn out that locations like Stevenage are just as important as other "nearly MSAs" that we cover, like Barthomley. For now we should be ready for either possibility.
Welcome Break Issues
Traditionally, we listed every site that has ever been operated by Welcome Break, Roadchef, Moto and Granada's motorway division. This is because those four were indisputably motorway operators, so are of interest to us.
Welcome Break have now acquired the following sites that we don't list:
Biggleswade (A1): we have good A1 coverage
Howden (A614): we do cover a few oddballs on the A614
Northway (A1): it is kind-of covered, as it's opposite Astwick
Three Countries (A509): we have nothing for the A509
We could create pages for all of these to complete the set, like we did with Ballymena. But if Welcome Break are going to move more in line with the likes of MFG and Rontec, then we will need to accept we can't list everything.
"Being owned by a major motorway operator" is a good argument in favour of adding a service area, even if it's unsigned, but only if there are other arguments in their favour too.
Ordnance Survey's Ideas
These places do not have any qualifying signage, but they are highlighted as services in Ordnance Survey mapping - most likely they used a third-party source to find as many "services" as possible. Most are former Little Chefs.
Ashchurch (A46)
Axminster (A35)
Bassingfield (A52)
Bradford (A6177/M606)
Crewe Green (A5020) - added in 2017. Not signed at all. Once a planned Little Chef
Delamere (A556, later removed)
Dundee (A90)
Farnborough (A3013) - as above
Haydock (A580)
Knutsford (A556 Tabley Mere) - still shown in 2018 despite it not being on the A556 any more
Langham (A12)
Oldbury (A4123) - former Little Chef, still a Travelodge and BP; not signed at all
Penzance (A30)
Rivenhall End (A12)
Rugeley (A460)
Thorney Toll (A47)
Torre (A836)
Wimborne Minster (A31)
Flamstead on the old A5 was prominently shown as a service area and truckstop in the A-Z, but appears to have never been signed.