Kenning Motor Group (Kennings)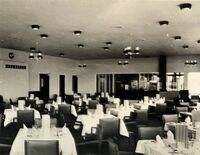 Kenning Motor Group (later shortened to Kenning, informally known as Kennings) built and operated over 100 petrol forecourts and two motorway services: Strensham and Anderton.
They were mainly interested in forecourts and garages but were keen to get involved with motorway services, and stuck at it despite being surrounded by hospitality giants with a better reputation.
Their services were all designed by London-based architects T P Bennett & Sons and their catering was leased to Northern Caterers Ltd. Kenning's strategy was to bid consistently for services, using a small design built around the motorway, but they usually made a low financial offer and would be outbid.
Kenning were frustrated by the cost of all their unsuccessful bids. After a short break, they made two bids for Anderton, which ditched their previous style for a more typical, spacious design, benefiting from the larger site but only to be let down by the disappointing traffic levels.
Kenning said they wanted to focus on their car dealerships, which are still going today under the name GK Ford. They sold Anderton to Top Rank in 1986, and Strensham was sold in 1994.
Legacy
Despite their cheery blue colour scheme, it's difficult not to note that of the only two services Kenning owned, one was labelled the worst in the country in 1991 and the other achieved the same title in 2006.
Attributing this to Kenning may be unfair: they quit the motorway business in 1994 when Strensham was improving and Anderton hadn't hit the bottom, so this infamy may be unwarranted. On the other hand, back in 1986, a Which? review described both services as "very drab and dated".
Strensham in particular was destined to hit rocky ground because it was built far too small, having been designed before any motorway services had opened.
Locations
The following services were owned by Kenning Motor Group:
Unbuilt Services
The following services were planned by Kennings but never built: