Dublin Road services
(Seirbhísí Bóthar Bhaile Átha Cliath)
Dublin Road
Bóthar Bhaile Átha Cliath
Location:
N1 and A1 over the Irish border
(also accessible to traffic on the B113 and the R132)

Signposted from the road.
Access/Layout:

Series of sites arranged around a junction.



This isn't a single service area as we would recognise it, but a series of facilities located on the original Dublin to Belfast road as it crosses the border at Killeen. Traffic is able to leave the new A1 north of the border, take the old road past the services, and then re-join the road to the south (or vice-versa).
Facilities
Main Amenities: Bureau de Change, Costa Express Shops: Fireworks Factory NI, Today's Local, Wholesale Home Fuels, JR's Off Licence Hotel: Carrickdale Hotel & Spa Forecourt: BP, Barney's Service Station, Donnelly's Fuels, Morgan Fuels, Morgan Xpress, McKevitts Service Station, Texaco, McKevitt's Service Station, Morgan Fuels, Car Wash
Contact Details
🏢 Address:
Dublin Road
Co. Down / Co. Louth
BT35 8RL
Eircode: A91 A368
Trivia and History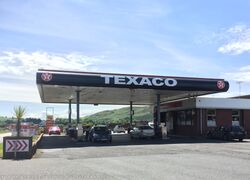 The facilities available are anything to take advantage of the different currencies and regulations, but this includes a number of forecourts which warrant the exit being signed with "Dublin Road services". Signage outside Barnaby's (immediately north of the border) appears to call that one the official service station, although it's not clear if that was meant to imply that all the others are unofficial. Given the nature of the road, there is probably no single 'official' service area.
These facilities saw a drop in trade after the cross-border dual carriageway opened in 2006, and consequently many of them are looking tired, as the road no longer attracts investment from many of the big names.
In August 2019 the various facilities along Dublin Road united to form the Dublin Road Services Operators Group, which wants to fight plans for a new MAXOL forecourt to the north of Newry. They state that the whole length of Dublin Road was designated as a service area.
Curiously, due to the position of the border, when travelling northbound traffic briefly spends a few hundred yards in Northern Ireland before re-entering the Republic and then entering Northern Ireland again. For many years this area was politically contentious, and there are still questions about how it will work post-Brexit.
In November 2020, planning permission was approved for Morgan Fuels to rebuild their petrol station, adding a restaurant and a convenience store.
Alternatives